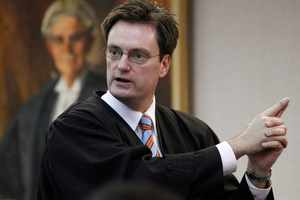 Greg King was one of the finest men I ever met.
He had the rare quality of making everyone feel instant warmth on meeting him. Partly this was due to his perpetually sunny outlook, extraordinary generosity and kindness. He saw only good in everyone.
On occasions, I hammered him for going in to bat for dreadful murderers and the like. But even with the vilest of cases, at best he could only muster up, "I suppose he's not a very nice person".
Greg worked immensely hard for one reason: he simply couldn't say no to any request for help, whether legal, financial or anything at all. But he always took it in his stride and, contrary to suggestions, was not under any stress.
Nor was he affected by some public criticism following the Scott Guy murder trial as has also been suggested. He simply accepted this as going with the territory.
Together with our mutual friend, senior Hutt commercial lawyer and great wit David Butler, near-neighbour Greg loved our regular weekly end-of-day sessions in my library quaffing red wine, joking and enthusing about this and that.
Like his approach to everything else, he accepted his diagnosis of diabetes last year as simply a minor nuisance and something to be dealt with. But last week, a fresh problem arose with that.
He loved life in all its rich complexity. Greg had a great enthusiasm for boxing and fought in his youth. Only a week earlier, he was excitedly telling me about the prospect of managing a local professional boxer with whom he was friendly.
He will be remembered by all who knew him as a very special human, whom we will all miss dreadfully.