Just four New Zealand-bred horses are in the running for this year's Melbourne Cup.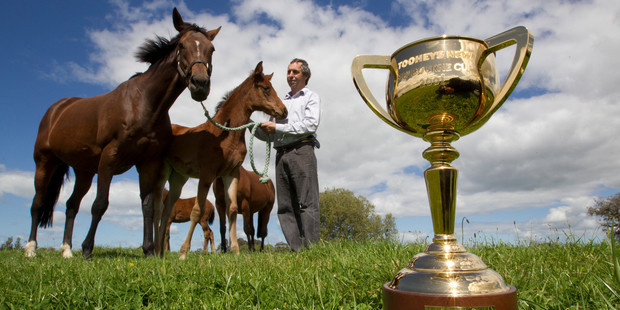 Just four New Zealand-bred stayers will be among the 24 horses battling it out for the A$6.2 million ($7.77 million) prize money in the Melbourne Cup.
The pressure is on New Zealand-bred horses Maluckyday, Lights of Heaven, Precedence and Zabeelionaire to make the country proud tomorrow and bring home a win, as about 10 per cent of Kiwis traditionally have a flutter on the country's single biggest betting event.
This is the second year in a row no New Zealand-trained horses will be racing because of increasingly tough international competition.
Maluckyday is the Kiwi-bred favourite to win and came second to this year's overall favourite, United States-born and French-trained Americain, during the 2010 race. Maluckyday is by champion New Zealand stallion Zabeel, who has sired three previous winners.
The last win from a Kiwi-bred, owned and trained horse was secured by Ethereal more than a decade ago.
The champion horse is among an elite group who won both the Caulfield and Melbourne Cups.
However, the famous mare, 15, was retired shortly after her wins and is at home at the Pencarrow Stud in Tamahere, south of Hamilton, raising her 7-week-old filly.
Pencarrow Stud manager Leon Casey hoped she would eventually repeat her mother's success. Ethereal already had six foals of racing age, including 3-year-old filly Dequesa.
New Zealand-bred horses have won 41 Melbourne Cups since the race was first run in 1883. More recently, they have won 29 of the past 54 Melbourne Cups.
Last year, TAB betting on the Melbourne Cup was $7.95 million, down on the record figure in 2010 of $8.73 million. It blamed the fall on the absence of any New Zealand-trained horses for probably the first time since the 1940s.
Local meets on Melbourne Cup Day
*Auckland Racing Club is holding an event at Ellerslie Racecourse with racing, a prize for the best-dressed man and woman, live coverage of the cup event on the big screen followed by the famous "Birdcage Bash" party.
*Otago Racing Club has its biggest event of the year at Wingatui with racing and its annual Fashions on the Fields competition.
*Melbourne Cup race starts at 5pm New Zealand time and runs for about 3 minutes and 20 seconds.
Cup facts
*NZ-bred horses competing - Maluckyday, Lights of Heaven, Precedence, Zabeelionaire.
*Prize money of $7.77 million.
*2010 winner Americain is race favourite.
*Maluckyday is Kiwi favourite.
*$7.95 million was bet through the TAB for last year's race.