Research could benefit many people.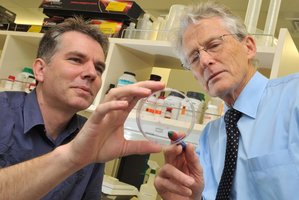 A cure for type 1 diabetes could be just around the corner - but it needs an injection of cash.
New Zealand scientists want to start trials using stem cells to restore the insulin-making capabilities of people with the disease.
If successful, the research may also benefit sufferers of other auto-immune diseases and people with spinal cord injuries.
The research would be done by Dunedin-based scientists with the Spinal Cord Society of New Zealand.
The society's clinical research director, Otago Medical School haematologist Dr Jim Faed, said $800,000 was needed for a facility to grow large quantities of stem cells from samples taken from the bone marrow of adults participating in the trial.
The research would build on the success of a Chinese-American study published this year that proved stem cells could help turn off aggressive auto-immune responses.
Spinal Cord Society scientist Dr Paul Turner said the results were astonishing.
"After 12 weeks, all treated patients were making their own insulin in larger amounts. This translated to an average reduction in injected insulin of between 25 and 38 per cent and an improvement in long-term control."
The New Zealand study would try to establish the best delivery method for stem cells and check whether multiple dosing was more effective.
Some in the trial would have their white blood cells dosed with stem cells outside the body; some would have the stem cells injected directly into their blood vessels.
Faed said the trial would provide useful information which could treat spinal cord injuries.
"It's hugely exciting because I think all auto-immune diseases will come under the same microscope to work out whether we make inroads into all of them."
The trial design was not complete because of the need for funding.
Diabetes New Zealand supports the proposal. President Chris Baty said up to 20,000 New Zealanders had type 1 diabetes, and they typically had it from childhood.
Diabetes
Type 1: People who do not make any insulin (or very little), needing regular insulin injections and dietary changes.
Type 2: Insulin production is sluggish or the body is resistant to insulin. Usually associated with being overweight.
Type 3: Diabetes of pregnancy. A pregnant woman needs to produce two to three times more insulin.
For more information, go to www.scsnz.org.nz