Father beat, slapped, whipped and strangled his sons.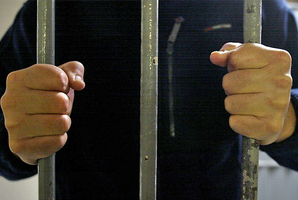 A father who forced his children to cover up their injuries after he bashed them has been imprisoned for four years.
The 43-year-old West Auckland man pleaded guilty to 36 charges of beating his three sons, now aged between 11, 12 and 15, with garden rakes, tree branches and metal pipes from a vacuum cleaner over a period of six years.
Court documents revealed one of his sons tried to run away from the frequent abuse in April last year.
But the father got into his car and chased him along a street in Massey where he ran him down before dragging him by his hair back into the car.
When they arrived home, the father threw him on to the couch before beating him with a garden hose across his legs, hands and stomach.
Two months prior, he slapped his 14-year-old in the face before pushing him up against the wall and strangled him while yelling, "I'm gonna kill you. I'm gonna squeeze the living s*** out of you."
He whipped the same son with a garden hose and a computer wire, bashed him with a metal pipe from the vacuum cleaner and he held him in a choke hold and scratched his face.
The man also abused his youngest son, aged 8 at the time, by whacking him with the flat part of a machete while he was sleeping, causing him to fall off the top of his bunk bed on to the floor where the father continued to beat him.
Police said the boy had to miss school for a month after a large bruise became infected.
The children were taken away by Child, Youth and Family and are now in the care of their step-sister.
Their mother, who is wheelchair-bound, is recovering from a stroke.
Waitakere District Court judge Lisa Tremewan said the father would tell his children to stay home after assaulting them.
"On one occasion you told [your son] to wear long sleeves, which seems to me an acknowledgment you did not want others to see the signs of what had taken place," she said.
She said the three boys escaped broken bones or hospitalisation although the offending was serious.
Tremewan acknowledged the father's remorse, his unstable upbringing and his willingness to undergo therapy while in jail.
He was sentenced to four years in prison and received his first warning under the three strikes law.
chloe.johnson@hos.co.nz