Health and safety officials encourage us to enjoy Guy Fawkes Night at professionally run public fireworks extravaganzas - but back in 1968 the streets crackled with dangerous fun.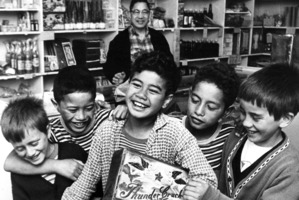 There was mischief in the air, and a fair amount of gunpowder, too, when Robert Wark and his pals got hold of prized Thunder Crackers in November 1968.
Robert, far right, remembers days of lively firework chaos in the streets around his Ponsonby home. "We used to terrorise the neighbourhood. There was an abandoned car at the end of the street and at Guy Fawkes we used to have wars. One team would be in the car."
Robert says teams would throw the big crackers (double happies) and shoot skyrockets at their opposition. "You'd have 20 minutes, or until they gave up, and then the other guys would have a go. It was dangerous as hell ..."
The lads also commandeered trolleys and pushbikes for their pitched street battles. The gang included Kerry and Patrick Huntly (second left and second from right respectively), Robert's brother, Gary, far left, and Royalist Cobben, holding the Thunder Crackers.
Apart from 7-year-old Gary, the boys were all aged 8.
"I suppose, when you look back at it, there was a degree of recklessness that came with fireworks."
In the 60s, says Robert, no one blinked an eye at 8-year-olds buying pyrotechnics. Old Mr G Wah Lee, smiling in the background, had a stockpile in the weeks before November 5. The boys walked from Ponsonby to his store in the city. "You always knew where to get the bargain and he was definitely the best for that."
Guy Fawkes festivities were a big deal. Families gathered round bonfires on playing fields while fireworks lit the night sky. During the day, the boys asked for money to subsidise their Guys - effigies made of old clothes stuffed with straw and rags.
Decimal currency, introduced a year earlier, boosted the boys' income. "We'd normally ask for 5c, which was fairly optimistic. It used to be 'a penny for the Guy' ... but the price went up fivefold."
Robert has since lived in London, the US and Australia, but he still calls Auckland home - after all, he's been investigating its urban infrastructure for many years. "We used to get the Thunder Crackers. We'd light them and hold the cracker right over the drains ... and then you'd drop it into the drain just before it exploded. If you timed it right, it would explode in the water and all this water would erupt out the drain."