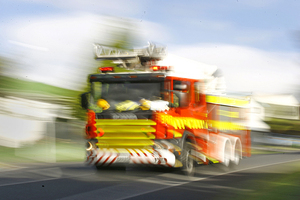 Three fires in less than 24 hours were started by machinery and farm vehicles in a series of unusual coincidences.
A 13-tonne digger left a haze of black acrid smoke over the Rangitumau Valley after it caught fire and exploded about 4.30pm Wednesday afternoon.
The incident came after a quad bike sparked a fire on a Carterton farm on Tuesday night, and a tractor was destroyed on Lake Ferry Rd earlier on Wednesday.
Wairarapa Rural Fire District principal fire officer Phill Wishnowsky said the incidents were unrelated.
"The only thing I can put it down to is an unusual number of similar occurrences in a short space of time," he said.
"It's not uncommon to have vehicle or machine fires."
Arson had been ruled out in all cases.
He advised people who owned and used farm machinery to make sure it was regularly serviced and maintained.
In Rangitumau, a passing contractor raised the alarm about the digger fire after it was well involved.
The digger is owned by Helen and Andrew McGovern, and used in a lime pit on one of their farms.
Mrs McGovern said contractors Fulton Hogan had been using the machine earlier.
"It had been used during that day and it was just sitting up there and it went 'boom,"' she said.
She was at her daughter's house further up the road when they smelled something funny, and then they heard a bang.
A neighbour had called her when she arrived home to inform them of the incident.
She said there was a "a nice, big haze of black acrid smoke all around the valley".
Mrs McGovern said her husband and son had inspected the machinery and thought it was likely an electrical fault had caused the fire.
Masterton Fire Service station officer Kevin Smith said the driver had put the digger away for the afternoon after it had been used to load two trucks.
Mr Smith said it took the fire fighters about 10 minutes to control the blaze.
"The heat was so intensive that it blew the main arm apart," he said.
For more articles from this region, go to Wairarapa Times-Age