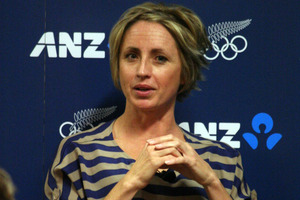 Olympic cyclist Sarah Ulmer will help launch the Wineries Ride trail in Hastings this weekend which promises to be really classy ... or that should be "Wheely Glassy".
That's the name of the event which will mark the opening of the Wineries Ride, the newest section of Hawke's Bay Trails. Wheely Glassy is part of the Food and Wine Classic, which includes a number of events around the region from today until November 11.
To celebrate the Wineries Ride, people are being encouraged to use pedal power to experience the trail which takes in more than a dozen world-class cellar doors in the Bridge Pa and Fernhill wine growing district.
The Wineries Ride has 36km of mostly off-road, flat trail and people will be able to enjoy wine tasting opportunities, new release wines, food and music at various stops.
It is part of the bigger Hawke's Bay Trails, which is one of 20 Great Rides around the country and a joint initiative between Nga Haerenga, the New Zealand Cycle Trail and the Hawke's Bay Regional Council.
Hawke's Bay Regional Council chairman Fenton Wilson said the council was organising "Wheely Glassy" to celebrate the completion of the Wineries Ride, something "a bit different for Hawke's Bay people and visitors to the region".
"Hawke's Bay Trails are a great way to access Hawke's Bay's fantastic activities and attractions.
"A year ago there was just the one bike hire business in the Wineries Ride area and now there are three, with positive spin-offs for wineries, cafes and local accommodation providers."
Ulmer, who is the New Zealand Cycle Trail ambassador, said she was looking forward to visiting the region again to experience the Wineries Ride and the Hawke's Bay Trails.
"I've heard a lot about them and I'm keen to join the fun and find out what other people think," Ms Ulmer said.
The $5.5 million Hawke's Bay Trails were jointly-funded by the regional council and The New Zealand Cycle Trail, working with Napier and Hastings councils, Rotary clubs, community trusts, corporates and private individuals.
The Wineries Ride Wheely Glassy event starts from Hastings Golf Course, Maraekakaho Rd on Sunday, November 4 at 1pm and finishes with the finale party at Trinity Hill Winery from 3.30pm.
For more articles from this region, go to Hawkes Bay Today