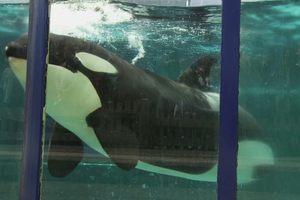 New Zealand orca expert Ingrid Visser is hoping shocking evidence of a captive orca's injuries will persuade a Dutch court to set it free.
Dr Visser is due to give evidence in an Amsterdam court today in a last-ditch attempt to force Dutch authorities to reconsider last year's decision to allow a young orca to be exported to a theme park in Spain's Canary Islands.
The female orca, known as Morgan, was rescued off the Dutch coast in 2010 and taken to a marine park near Amsterdam where it was nursed back to health.
The park claimed Morgan was unsuitable for a return to the wild, and transferred it to Loro Parque in Tenerife after getting a green light from the Amsterdam District Court in November 2011.
Dr Visser said she had observed Morgan at Loro Parque for 77 hours over eight days, and saw 91 acts of aggression against Morgan by other orca in the tank. She had documented 320 bite and puncture marks on the orca's body, not including injuries inflicted by Morgan's own abnormal behaviour such as banging her head against the side of the tank.
The orca was also wearing its teeth down by chewing on the concrete, which was likely to lead to infection.
Dr Visser claimed the park was anxious to keep the orca because of inbreeding among the small pool of captive orca worldwide.
Morgan was held in a tank with a mature male, which had been observed chasing and body-slamming the young female, subjecting it to "intense sexual pressure".
"It is clear that Morgan must be immediately removed from this dysfunctional group of orca at Loro Parque, before she is injured any further or succumbs to direct or indirect effects of the injuries and stress," Dr Visser said in a report prepared for the court.
The park had since erected a gate and barred access to an underwater viewing window so Morgan could not be observed outside show times.
Dr Visser said using Morgan for entertainment and breeding was a violation of the export permit.
Three judges in the Amsterdam District Court will revisit last year's decision to allow Morgan's transfer to Loro Parque in a "merit procedure". If they find any errors were made they can send the case back to the Dutch Ministry of Economic Affairs and Agriculture.
For more articles from this region, go to Northern Advocate