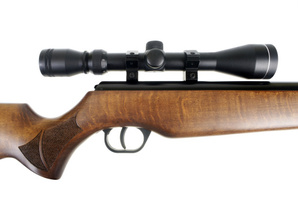 A "drunken fool" who fired an air rifle after a noise-control officer served him with an abatement notice, sparking a callout from armed police, has escaped with a non-custodial sentence.
Anthony John Wilson, 45, earlier pleaded guilty to two charges of recklessly discharging an air rifle in a public place to frighten and being intoxicated while in charge of a firearm.
He appeared for sentencing in the Whangarei District Court yesterday.
Wilson's actions at Warwick Place in Raumanga about 2am on July 24 sparked a police armed offenders squad callout.
Judge Greg Davis said Wilson had consumed a large quantity of home-brew whisky that day, played music and abused his neighbours when a noise-control officer was called.
Wilson snatched an abatement notice the officer served on him, screwed it up and told the officer to get a warrant.
As the officer headed down the driveway, he heard an air rifle being cocked, then fired.
Armed police were called to the scene and Wilson was subsequently arrested.
Wilson's lawyer, Kelly Ellis, said her client was just "a drunken fool making a lot of noise" and that he would grab an opportunity for home detention with both hands.
Judge Davis said if he had the impression Wilson aimed his gun at the noise control officer, then he would have gone to jail. Ms Ellis said there was no suggestion that the officer was targeted.
Judge Davis said the charges carried a maximum of three months in jail and Wilson would spend 35 minutes in prison if credits were given for his early guilty plea.
Wilson's behaviour in a residential area was foolish and the air-rifle shot could have hit someone, Judge Davis said.
He sentenced Wilson to four months' community detention and ordered that from Monday, Wilson observe a curfew from 7pm to 7am.
Judge Davis ordered that the air rifle be destroyed.
For more articles from this region, go to Northern Advocate