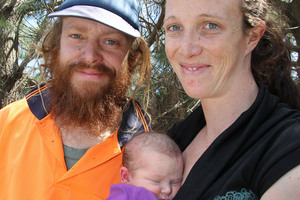 A father-to-be found himself half naked on the Rolleston railway station platform waiting for a special arrival - his new baby.
Rakaia concrete company owner Clinton Watkins was driving his partner, Sarah Flanagan, to the Lincoln Maternity Hospital when she said: "The baby's coming."
Miss Flanagan called her midwife who told her to pull over and call an ambulance.
Mr Watkins had stopped at the Rolleston BP, but made a snap decision to head for the railway station platform.
"No way was my baby going to be born at a BP. With all the forecourt cameras it could've ended up on Facebook or YouTube," he said.
The St John emergency call centre told him to get ready to catch the baby if the ambulance, which had been dispatched, didn't make it in time.
"I was standing there on the platform half starkers because the ambulance lady on the phone said to put something down to catch her.
"I only had the clothes I was in, so I took off my pants, my shirt and got ready to catch her in my jumper," he said.
Luckily for Mr Watkins, the ambulance arrived just in time.
The baby girl, born on October 20, weighed seven pounds 13 ounces.
While in labour, Miss Flanagan also took the phone to keep in touch with St John.
"I was on the phone to the ambulance communications people and they told me to tell my partner to see if he could see the head, which he could," said Miss Flanagan.
Then her waters broke.
Miss Flanagan went into labour just before 9.30pm and thought she would have plenty of time to get to Lincoln.
The new baby has not yet been named.
Mr Watkins is considering names of trains, but Miss Flanagan is opting for something more traditional.
"Well, I had better start looking up famous train names - Kingston Flyer?
"There must be some old famous steam trains."
Miss Flanagan said: "We've got a few (ideas for names), we're trying different things. You really get to know your baby in that first week, their personality traits and their character."