Former Grammar head says his mission is to improve things for everyone.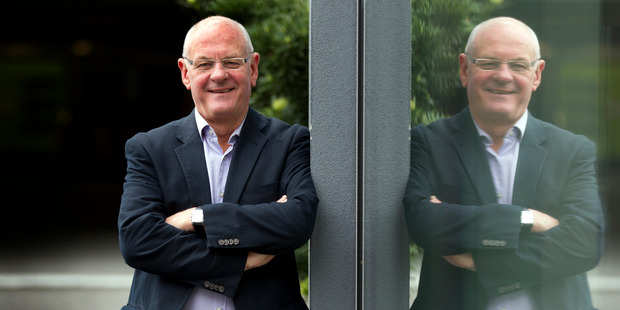 The Grammar Old Boys gave John Morris a sendoff last week. It was not his first farewell; the 10th headmaster in the 143-year history of what's generally regarded as the country's best state school announced before Christmas that he would finish at the end of September, and he's been subjected to a few valedictories since.
But the man whose business card now says Morris Consulting plainly treasured last week's affair, in which he saluted and was saluted by a group he described as "our advisers, advocates and allies in support of our institutional mission and vision".
About 300 of them filled one of the function rooms at Eden Park with the clank of cutlery and the babble of conversation as a slideshow played shots of the guest of honour in grinning handclasp poses. An old-school portrait on the dais showed him in academic regalia looking thoughtful and, it seemed to me, like a man bowed down by the burden of office.
Among the speechmakers, last year's head boy, Nick Orr, expressed mock disappointment that he could dig no dirt on the man they called JMo except that he "drove 400m to work each day" from his house on the grounds of the school's boarding hostel.
More saliently, the headmaster of Wellington College, Roger Moses (AGS, 1968-72) hailed Morris' fondness for "railing against the political correctness that emanates from the education faculties of universities and colleges of education". It was a remark that elicited plenty of nods of approval from the men at the 30 black-clothed tables, though Morris himself, a history graduate, might have winced when Moses quoted former "Archbishop of Canterbury" Sir Thomas More (More, who went to his death rather than recognise the King as the head of a Church of England, was sort of the opposite of the Archbishop of Canterbury).
That aside, the remark seemed to depict Morris as a champion of practice over theory, of hard-knocks, bugger-the-pollsters sort of education. Yet when we meet for an hour on Monday morning, he several times uses the phrase "there is plenty of research on this". Class size has "minimal impact" on student achievement, he tells me: "Hekia [Education Minister Hekia Parata] was dead right on that. It just wasn't sold particularly well. There's a whole lot of research, the world over they're saying that."
He chooses the meeting place: Urban Cafe in Newmarket, where the two Johns, Banks and Key, so famously sought to be seen but not heard. They know him here - when I go up to order coffee the barista tells me how "Mr Morris" likes his and the waiter who brings them warns him that "there's a recording device on your table".
It's a matter of some pride to him that he's only the 10th Grammar head. That characteristic longevity - his predecessor John (now Sir John) Graham did 20 years and the legendary Henry Cooper 18 - gives the school a sense of "stability and continuity". But after 19 years (in which about 10,000 boys passed through the gates) the 62-year-old decided it was time to move on.
"I wanted to have some decent time, before I started to do not much at all, to do some decent work and do something a little bit different."
That "something different" includes consultancy work in the Persian Gulf states and Asia for Cambridge International Examinations, whose introduction to the assessment landscape here Morris so enthusiastically championed. "I'm not a salesman," he insists. "The work I was doing in Qatar was on leadership and the impact principals can have on student achievement."
He's also been commissioned by the independent public policy think tank New Zealand Initiative (formed in April by a merger of the Business Roundtable and the New Zealand Institute) to write monographs on teacher quality and improving student outcomes; he's on the boards of Education New Zealand (a Crown body that promotes our education to overseas markets), the Tertiary Education Commission (which administers funding to that sector); and he's on a team reviewing the profession's regulatory body, the Teachers Council.
So resignation plainly does not mean retirement, or anything like it. But as he looks back on a term at the top during what he has described as "a period of significant change", the headmaster (Grammar doesn't have principals) downplays his importance in the scheme of things.
"My interest is in curriculum and assessment," he says, "which is why I got involved in Cambridge and NCEA and so on. But I personally don't think the principal is the number one. I think the main influence is family background, and then the classroom teacher and then the principal. But the principal does make a difference - there's a lot of research on this - by appointing the best possible staff. If you've got lousy teachers, you've got a lousy school."
I'm wondering whether he's stating the obvious or begging the question (what constitutes a good teacher has filled many millions of pages by people in those university education faculties Roger Moses so derided). But it reminds me of a comment much replayed in the past week since the death of the distinguished Grammar alumnus Sir Wilson Whineray: the former All Black captain said the team was so good during his tenure that "a baboon could have captained them".
If Morris thinks I'm calling him a baboon, he shows no sign of offence. But I want to know whether Grammar is what Grammar is as much because of its intake as its pedagogy: real estate in the "Grammar zone" is among the priciest in the country and it's the zone that pushes the prices up. In short, does the fact that the kids come from rich homes, where aspiration and achievement are embedded values, make teacher quality less significant than student quality?
"One of the myths of Grammar is that all the kids are bright," he says. "They're not. There is a huge variation." Grammar has a Learning Support Department - the term "slow learners" has fallen out of favour - in which four full-time staff, twice as many teacher aides and parent volunteers deal with more than 200 kids a week, he explains.
"On the other hand, some kids these days are brilliant scholars in terms of the quality and depth of their work, their ability to debate and discuss, and that's why you need good teachers at top level."
In any case, Morris says he knows what life is like on the less sunny side of the tracks, West-Auckland raised (only the occasional vowel, as in "how" pronounced "hoe", betrays his Lancashire roots), he went to Kelston Boys', where he later taught. His parents left school at 12 and he was the first person in his family history to go to university.
"I understand the value of education, that it can transform lives. I don't go in to bat for the elite but to improve it for everyone."
Morris has sympathy for Education Secretary Lesley Longstone's comments about the "tail" of educational underachievement system, which is getting longer and is disproportionately brown.
He has had many meetings with iwi groups about ways of encouraging applications from Maori boys and has partnered with the United Maori Mission whose Owens Rd hostel is in the Grammar zone, and has brought 50 boys from communities where educational opportunity is poorer.
In his speech at that Old Boys' dinner, he mentioned the school's endowment in 1850 "for the welfare and educational advancement of persons of all classes, all races who may inhabit this colony".
Morris says he has not sought to be the spokesman for traditionalism; the media seek the Grammar head out. But on the contentious matters he has spoken out about during his stewardship, he remains as unequivocal as ever.
His early opposition to NCEA as an internally assessed system of aggregating credits that would "eradicate challenge and demotivate effort" is unchanged, though he thinks that his championing of the Cambridge alternative has improved NCEA.
As we pack up to leave, I remark that Morris has consistently referred to the school as "we" - even though he's stepped down and declined to be interviewed or even photographed at the school.
He smiles, as though caught out doing something wrong. "Well, once you're the headmaster, I suppose, you're always sort of ... I hadn't thought about it to be honest. It's part of your life, when you've been there that long. It probably lives with you. You're part of the school."