Former PM says people with deformities or disabled by disease are discriminated against by present system.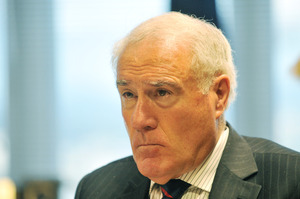 Accident Compensation Corporation payouts should be extended to those disabled by disease or because of congenital deformities to address a long-standing injustice, says former Prime Minister Sir Geoffrey Palmer.
Speaking at a conference hosted by ACC claimants' lobby group the ACC Futures Coalition this week, Sir Geoffrey said the scheme's architect, Sir Owen Woodhouse, clearly intended the scheme would eventually cover those disabled by disease.
However, the fact that it did not amounted to a form of discrimination and it remained "an anomaly".
"People who are injured are much more generously treated by the state than those who are sick, who suffer from incurable disease or have congenital deformities. "The unfair and unjust discrimination results because the choice of benefit depends on the cause of misfortune."
The Law Commission had recommended in 1988 that sickness should be covered by the scheme as soon as possible. "We are still waiting," Sir Geoffrey said.
Disability Rights Commissioner Paul Gibson welcomed the fact Sir Geoffrey had raised the issue that had virtually disappeared from the policy agenda.
However, "the gap between entitlement via ACC and what you get out of the rest of the system if you have a long-term disability has always been high on the agenda of disabled people".
"If you were to pick how you were to become disabled you'd choose an accident."
The issue needed to be dealt with via a "national conversation".
Responding to Sir Geoffrey's comments, ACC Minister Judith Collins said the scheme "was never designed to be a health insurance scheme, and we are not going to re-write history now by changing this".
"The Government's priorities for ACC are for it to deliver the highest standards of best practice and service for clients, and to rebuild the public's trust and confidence. There are no plans to change the structure of ACC, or to expand entitlements."
Labour's ACC spokesman, Andrew Little, said he had been researching the issue ahead of a speech he was to give this Saturday at the 40th anniversary of Norman Kirk's third Labour Government which introduced the scheme.
"It's time to crunch the issue and I would certainly be very keen to see a study on that issue commissioned."
One obvious complication was that the shape and the extent of the welfare system today was quite different to when the scheme was designed.