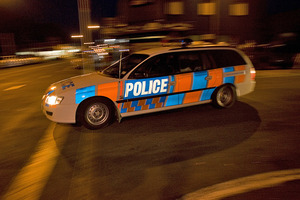 Police have two suspects following an carjacking in south Auckland involving a child as young as eight, armed with what was believed to be a toy pistol.
A 57-year-old woman stopped in Franklin Rd in Pukekohe about 9pm on Sunday to buy takeaways, said a police spokeswoman.
As the woman was eating, a boy, who she thought to be aged between 8 and 11, opened her door and said "get out of the car, b****''.
He was armed with what the woman described as a black ``toy pistol'', said the police spokeswoman. However, the victim said it could have been a real gun: "we can't be sure''.
Another boy, aged 15 or 16, then opened the passenger's door and told her: "get out of the car, b****, we want the car''. He grabbed her handbag, containing cash and credit cards, and ran off.
The woman got out of the car to chase him, but while she was gone, the the younger boy and another accomplice, also aged around 16, got into her car and drove off.
The boy she was running after then managed to jump into the moving vehicle, and the thieves fled in the woman's car.
Police want to hear from anyone who has seen the white Ford Mondeo, registration AQM893.
The youngest offender was wearing a hat. The boy who opened the passenger's door wore a grey hoodie and had something covering his face.
- APNZ