As Lion Man Craig Busch returns to the cat park he founded, his ageing mother claims the TV star's career was built on fantasy. Government officials disregarded warnings about his ability to care for lions and tigers, she tells Kathryn Powley.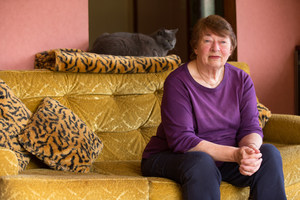 Flicking through a brown 1990s photo album, Patricia Busch reflects on what might have been. Back then nobody had heard of her son Craig, Zion Wildlife Gardens didn't exist and The Lion Man TV show was a decade away.
Craig Busch was in America "living the dream": starting to work with big cats, visiting Las Vegas, hanging out with rock stars and TV and movie types. Patricia's 70-year old hand slowly turns a page of the album.
"Craig used to love me," she says, misty eyes fixed on a photo of a smiling Debbie Reynolds who has signed a programme from a Vegas show. Still in his 20s, Craig sent back the programme knowing his mum would be thrilled. And she was. These days she is far from thrilled. She's seething.
Patricia has lost virtually everything in her support of Craig, 47, and Zion after she rushed to help when Craig was charged with a 2005 assault on his partner.
"I'm likely to lose all my assets from my life's work and at age 70 that is a bleak prospect. Before I went to Zion, my worth in dollar terms was over $2 million and that was seven years ago. I thought I was helping him. In actual fact I shouldn't have helped him. I should have let it fail. I shouldn't have worried about Craig, or the cats or anything; I should have left him to whatever justice was coming to him."
She cuts a sad figure. That's partly because it's uncomfortable watching a mother put herself through this and still be ready to take more, to still love her estranged son, and partly because there is evidence to point to Craig having built his career on bold stories and flashy photos.
Putting aside some of the controversies that have dogged Zion - the extensively documented legal wranglings that have bamboozled all but the most fervent followers; Craig's 2007 conviction for assaulting his partner Karen Greybrook; and the debate over his controversial decision to de-claw many Zion animals, none of which we want to re-litigate here - Patricia is furious that Craig obtained a zoo operator's licence.
Documents released to her under the Official Information Act reveal repeated warnings from US animal trainers. This man, they said, should not be in charge of a big cats park.
Patricia believes the Ministry of Agriculture and Fisheries (MAF), now called the Ministry of Primary Industries (MPI), should not have given Craig an operator's licence. The letters from concerned animal trainers and big-cat lovers from the US, who worked with Craig, urge MAF to deny Craig a licence because of his character and lack of experience with animals.
Patricia says his 1991 conviction of assault on a former partner is something that should have rung alarm bells. But try telling all that to his 70,000-plus Facebook fans, the self styled "Busch Babes".
A coroner is deciding what responsibility, if any, Craig, Patricia or indeed MPI should take for the events leading up to the mauling death of keeper Dalu MnCube in 2009. The Busch Babes' cheerleading gathered such momentum that MPI adviser Dr Barry Wards told this month's inquest that the ministry feared the potential backlash from Craig's supporters when deciding how to handle the mess in 2008, after Patricia sacked Craig.
These days Patricia lives in an unimpressive farmhouse just off State Highway 1 near Karapiro with her daughter, Craig's younger sister Megan. There are also four cats, two black labradors and seven horses- and several boxes full of letters and reports documenting the train wreck that is Zion.
It would be easy to dismiss her as an embittered old woman who should have let go long ago, leaving Craig to his cats. But to ignore Patricia would be to ignore her insight into her own son. She says she doesn't want to attack his personality here, but she feels wounded by the breakdown of their relationship.
How did the son of a couple who owned an engineering business, a young lad who attended Auckland's prestigious St Kentigern's College, who raced sidecars at speedway and was into jetskis, become The Lion Man? Patricia puts it down to a natural ability with animals, charm and a love of the attention.
"Craig just loves that adoration and being in the limelight. He is a showman and he is very good at it. The sad thing is he's got so so much talent. He didn't have to do all these things." She wipes her eyes. "It seems such a waste." She says he grew up with values and knows right from wrong. She doesn't really know what happened, but says she still loves him. "I do. It's a strange situation to be in because yes, I do love him. But he's done so much harm. He tried to make me bankrupt."
The Herald on Sunday spoke to some of those who wrote to MAF and found a picture emerging of a man with a dream who talked his way into positions and befriended trainers until he was close to big cats.
He became friends with a woman called Jan Giacinto, who died in 2008, aged 83. She wrote a glowing reference for MAF in 1996 saying he'd started out cleaning cat cages and preparing meals at her Cheetah II Productions in the aptly named Tarzana, California. "He showed great ability with them and quickly moved up to breeding, vaccinations and minor veterinary work ... he handled and trained several big cats between January 1993 and February 1995."
However, after Craig returned to New Zealand, Giacinto wrote to "Craig and Parents" to ask about US$270 ($328) Craig apparently owed them, and US$400 to another person.
"Craig we trusted you like one of the family. I would never have given you any money if not. Our feelings are really hurt ...Wehad such hopes for you." Patricia paid the debt.
"I probably thought Craig would repay it. I was probably being a bit naive," she says, laughing. Patricia understands that it was through Giacinto that Craig met the Las Vegas magician Dirk Arthur and Guns'n'Roses guitarist Slash.
Slash was having trouble with a cougar called Curtis, and Craig stepped up to help. Patricia's old photo album shows him and Slash with the animal. Although there seems doubt as to whether he was good at handling such felines then, that didn't daunt Craig.
When he returned to New Zealand around 1995, he moved in with his mother and and his younger siblings Steven and Megan on Patricia's Clevedon lifestyle block with dreams of starting his own big-cat attraction. Says Patricia, "I actually thought Craig had this lovely idea, that he really cared about these endangered animals. I thought it was good that he wanted to do something really good. He appeared, when he came back from America, to have changed a bit and to be thinking of the family. Never in my wildest dreams did I imagine what's happened since."
But first he had to prove himself to MAF; and although Giacinto's reference spoke highly, others were scathing. Craig had put forward Jonathan Kraft, a former Las Vegas showman who now runs the "Keepers of the Wild" big-cat sanctuary in Arizona, as a referee.
But Kraft wrote to MAF saying that Craig had never worked for him. "It is our opinion that Mr Bush [sic] is not a person to be trusted. He has left a trail of disaster behind him in our industry. I feel that for Mr Bush to be in charge of any animal or park would be a great disservice to the animal and to our industry. My fervent wish is that you would deny any and all such endeavours to him."
This week Kraft told the Herald on Sunday he still holds that view. "I remember for a fact he didn't have any animal knowledge at that time at all. I had a badger by the name of Billie- I said, 'you can't pat that badger,' but he said, 'oh, that's all right,' in his Kiwi accent, and all of a sudden the badger was hanging from his thumb. We laughed about that forever. He was just a nightmare in the industry."
Craig started hanging around. "He would do things that weren't allowed and I had to save his life one time." Kraft says Craig followed him into his arena without his knowledge and a tiger made a lunge for Craig. Kraft went between them and stopped an attack. Kraft asked him to leave. Another letter to MAF, released under the Official Information Act but with the name blocked out, expressed similar opinions to Kraft's.
This week Hayden Rosenaur, another animal trainer involved in film and television, confirmed to the Herald on Sunday that it was his letter. In Rosenaur's opinion: "[Busch] does not treat animals well, wherever he goes he leaves a trail of destruction behind him. I met him a couple of times, he was clueless."
In his letter to MAF, Rosenaur writes he encountered Craig in 1995 when he was attending to an adult cougar on set, but Rosenaur believes he was doing so badly. "He was attempting to walk the cat on a lead. He said that he had trained it; however, the cat was unwilling to cooperate. He choked the cat down." Craig finally dragged the animal by the chain.
"I do not feel that he had any idea what he was doing and do not understand how he even came across the opportunity to have this animal. It is my professional opinion that he had no experience and had the potential of being very dangerous to animals and the surrounding people if given the chance to handle big cats."
Joe Camp, owner of Animal Exotics, says he witnessed the incident or at least one similar on the set of Chuck Norris' TV showin Texas. Giacinto had arranged for Craig to provide a cougar. "His was not an animal that could be worked, so I had to bring a cougar from somewhere else. He was not a professional trainer."
Camp believes Busch was not sufficiently experienced: "He couldn't walk that animal around on a leash. As I recall he wasn't so much cruel to the animal as he didn't know what he was doing."
Camp was amazed to learn that Craig had gone on to become a big cat handler in New Zealand. Based on the documents released under the Official Information Act, Patricia says: "MAF ignored very serious and negative information received from many people about Craig." She says she believes his application to be an operator should have been declined. "Serious consequences have since occurred because of MAF's failure in its duty of care."
Jonathan Kraft says Craig used to have a photo of himself in which, Kraft believes, it looked almost as if he had superimposed his head on the bodies of Siegfried or Roy,who had a Las Vegas big-cat show. "Somebody sent it to me and I said, you've got to be kidding me."
The last photo in Patricia's 1990s album shows a curly-haired Craig Busch posed up with a tiger and a woman identified as Stacy. It bears the legend: "Watch us Roar in '94!"-the slogan of the MGM Grand, where Siegfried and Roy had previously performed. Is it the same photo? We sent a copy to Siegfried and Roy's office, whose staff said it appeared, in their opinion, to be an altered image of a photo of one or both performers.
Another possibility is that the photo is linked to magician Dirk Arthur, a friend of Giacinto, who performed with white tigers, and had an assistant called Stacy. Our attempts to contact them have failed.
Either way, "Stacy" didn't survive Craig's scissors and when he introduced himself to MAF it's just Craig and the tiger on his letter.
"My name is Craig Busch. I am at present in America training big cats and wolves. I have been doing this now for three years and have become very good at this sort of work. I am wanting to return to New Zealand and carry on my work there ... Sincerely Craig Busch."
Eventually Craig was granted an operator's licence for an existing zoo in Kerikeri. Patricia thinks he succeeded because of his "charm, enthusiasm and passion" and because the facility needed a new operator. From there he went on to start ZionWildlife Gardens. After a turbulent time, which saw first Craig and now Patricia locked out, the park is nder new management and ownership and Craig is back working with his animals.
For over a year, the Herald on Sunday has put several requests to Craig through his representatives, but we have always been declined an interview. We emailed questions to him via his representative Jill Albrow this week.
The Kingdom of Zion, as the park is now called, has a licence held by a company called Earthcrest, formed by Craig and his current partner Suzanne Eisenhut in 2008. Craig is no longer listed as being involved with Earthcrest, only Eisenhut. The sole shareholder is "M Trustees" of which Tauranga accountant Ian Stevenson is sole director and shareholder.
Albrow says the disputes between Craig and his mother have been subject to a mediation process at the High Court. "Settlement could have been possible next week," she says.
"Why Mrs Busch has chosen at this time to send unsubstantiated photographs and letters to the media at this time is incomprehensible. But it has shown that settlement with Mrs Busch will never be possible and has destroyed this settlement process." Craig will respond once that process is discontinued and the Coroner's report on McCube's death released, she said.
A Ministry of Primary Industries spokeswoman declined to comment on Busch's operating licence while the cause of MnCube's death is still before the Coroner.
To Patricia Busch it boils down to accountability. How could MAF have disregarded those warnings? As she gazes at the photos of a youthful Craig, with his early feline fascination, it's as if she's looking at a stranger - a stranger to whom she now wishes she'd been a little less supportive and a little more willing to dish out some "tough love".
Kathryn.powley@hos.co.nz