New Zealand's surf lifesavers are back on the beaches again this summer, reminding us that as long as we swim between the flags they will be there for us.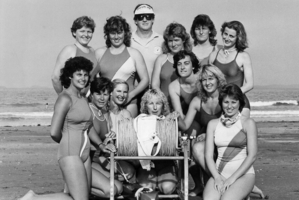 Life really was a beach for the Auckland women's lifesaving team at sun-kissed Mairangi Bay, as they prepared for a transtasman competition.
In December 1984, they became the first female side from New Zealand invited to take on Aussie counterparts at a contest on the Central Coast.
And for Bryony Coutanche, happy memories still radiate from the team photograph, taken during a training session.
"You can tell how good a time we were having from the big smiles on everyone's faces," says Coutanche (back row, second from left).
"It was one of the best times of my life. The camaraderie was fantastic and we formed genuine friendships that are still ongoing."
These days, Coutanche, 50, from Patumahoe in South Auckland, spends most of her time looking after her 8-year-old twins, Sofya and Robert.
But 28 years ago, much of her focus was on getting fit for the lifesavers' contest. Her team-mates came from all walks of life and included schoolgirls, teachers, hairdressers, a market analyst and an advertising professional.
"The training sessions could be pretty tough and it wasn't easy hauling in the old reel and line that is in the foreground of the photograph," Coutanche explains.
"That was back in the days before rubber boats and helicopters and you had to be attached to the line when on rescues."
The women turned in some respectable winning performances on their two-week trip to Australia, competing in what was then a male-dominated sport.
And Coutanche, who has been with the United North Piha surf club for 41 years, says her love of sea swimming has been passed on to her kids. "My children started as junior surfers last year, so hopefully they will choose to stay involved," she says.
"As we are surrounded by water in Auckland it is important that youngsters learn how to keep safe in the sea and joining a club is a great way of doing that."
Team coach Denis Cooksley (back row, centre) is still involved with the Mairangi Bay Surf Life Saving Club, where he is a life member.
The 67-year-old company director enjoyed being in charge of Auckland's first women's team.
"The girls were very dedicated," he says. "There was a real bond between us and I still stay in touch with many of them."