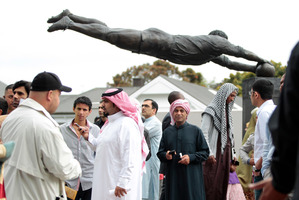 They prayed in their hundreds at Eden Park, New Zealand's rugby Mecca, yesterday.
But it had nothing to do with the All Blacks, or even calling for divine intervention for Auckland's chances against four-time champion Canterbury in last night's ITM Cup final.
The venue hosted Muslims celebrating the festival of Eid-ul-Adha, which marks the end of the annual Hajj pilgrimage to Mecca.
Prayers and cultural performances marked the event around the country. Eid-ul-Adha is the second of two Muslim festivals. The first is Eid-ul-Fitr which celebrates the end of the month of fasting.
Muslims able to afford it are required to sacrifice an animal on Eid-ul-Adha.