TV talent show rules ban children from the studio audience ... but they're allowed in if they want to be performers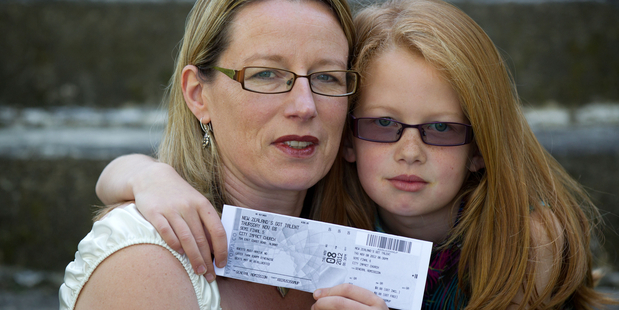 They can perform in it, watch it from home and even vote if their parents agree, but children under 12 are banned from being in the studio audience for filming of the semifinals for New Zealand's Got Talent.

The talent show's producers say the age limit was imposed to limit disruptions by fidgety children who might not be able to be sit still and quiet for long periods of time.

Erin Lauder, 9, was devastated to learn she and a friend were not able to attend a New Zealand's Got Talent semifinal because she was not old enough, especially when one of the finalists, Wellington singer Jessie Hillel, is only 11.

Erin's mother, Sharon Sweeney-Lauder, was given free tickets for a semifinal on November 9 and said Erin had been ecstatic because she thought she might see her hip-hop teacher perform.

But a day later the St Joseph's School student was in tears when a friend of her mother's went onto the booking website eventopia.co.nz and discovered children aged under 12 couldn't attend, and those under 16 had to be accompanied by an adult. Mrs Sweeney-Lauder said the age restrictions were not shown on the tickets.

"When she (Erin) found out she was very, very upset. When her father came home from work he pulled into the drive and she went out to the car and said, 'oh dad I've got really bad news' and then burst into tears."

Mrs Sweeney-Lauder said the age restriction was baffling when the target audience and some contestants included children.

"They (Erin and her friend) were kind of stunned they would be considered too young to be there. Let's be honest they are the ones that are watching it ...
It just seems a bit bizarre."

Another of Erin's friends was to attend on Thursday for her older sister's 12th birthday but missed out, while her sister attended.

Erin's 11-year-old sister, Aisling, was in a school class in which some pupils who had turned 12 were able to go to the show while those who were still 11 were barred.

Imagination Television said the age restriction was imposed to ensure the smooth filming of the show which took about four hours, and was in the children's interest - it was a standard rule for filming of that nature.

The company said watching the show on set was completely different to children watching it on TV and any contestants under the age of 12 had to be accompanied by an adult on the set or backstage.

The third of the six semifinals was held on Thursday night at City Impact Church in Albany, north of Auckland.

A member of the studio audience told the Weekend Herald she saw several children at the venue who looked to be under 12.

The rules
• Children must be at least 12. People under 16 must be accompanied by an adult.
• Guests must arrive to be seated no later than 6.30pm, otherwise seats may be re-allocated.
• Each show recording takes about four hours.
• No food or drink are allowed inside the venue.
• No cameras or recording devices are allowed, and all phones must be switched to silent during the filming.
• Tickets are free on application.