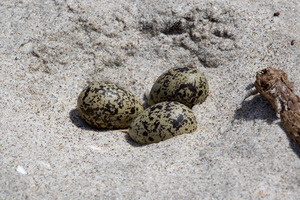 Hopes of a successful early breeding season in Whangamata for the endangered dotterel have been shattered.
Last Friday, the day after Coastal News reported the dotterels had nested early and that warning signs had been erected, dotterel minders were devastated to find all 15 eggs had vanished from the fenced-off and well sign-posted nesting area.
Graeme Webb said no traces of the eggs were found and it was highly unusual for a predator such as a black-backed gull or hedgehog to clean up everything.
"It is a mystery - there was nothing in the predator traps and no sign of what happened to the eggs - not even a trace of egg shells. Three of those eggs were due to hatch toward the end of this week," Mr Webb said.
He said dotterel were more endangered than kiwi.
"But people seeing dotterels on the beaches think there are plenty of them. In actual fact, the kiwi is more plentiful but because we don't see them, people tend to think they are much scarcer."
The eggs would have been the first of the season but, Mr Webb said, the birds would now go ahead and lay another batch of eggs which would incubate for about 32 days.
The eggs are usually laid in a clutch of three over two or three days then all hatch at once.
"However, with these eggs destroyed, the second lay will probably only be two eggs for each pair of birds. If they have a third lay then there's usually only one egg," Mr Webb said. "We rely on the goodwill of the public a lot in keeping an eye on the eggs and would appreciate reports of any predators seen in the area."
- Whangamata Coastal News