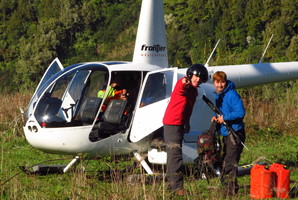 The wife of a hunter found after three days lost in the Ureweras was last night able to tell their three young children: "Papa is coming home."
Sue Kuik cried for the first time in front of her children, Oliver, 6, Oswald, 4, and Oriana, 15 months, as she spoke of the pain of not knowing how things would turn out.
"I only cried at night when I was alone. I didn't want the children to see me cry," Mrs Kuik said at the family home in Manurewa last night.
"I was still positive, though, because we had so much support. There were so many people praying for us and now our prayers have been answered."
Her husband, Desmond Kuik, 42, was found yesterday afternoon after search and rescue teams found a note in the Kouanui Hut the day before, saying he was lost but had some food.
An emotional Mr Kuik held out his arms to Whakatane Land Search and Rescue co-ordinator Dale Walker minutes after he jumped out of the helicopter that had brought him in from the bush.
Mr Kuik had walked about 12km as the crow flies, but searchers believe he would have covered at least three times that distance as he tried valiantly to return to the campsite he and two hunting companions had set up on Sunday.
A cake maker and owner of the Sweet Secret Cake House in Manurewa, Mr Kuik had left for his hunting trip on Saturday.
A search and rescue operation was launched on Sunday when he did not return after leaving his party's campsite near the Waititi Stream in the Waimana Valley that afternoon.
Mrs Kuik admitted that after receiving a call on Monday afternoon that her husband was missing, she decided not to tell his elderly parents until later that day.
"They had gone out but I was home with my children. I called out to one of my boys, 'Come, we need to pray. We have to pray for daddy.'
"I didn't want his parents to worry. At that time I wasn't worried because he is very experienced. But Monday night was the hardest because the weather was very bad. I kept thinking about the conditions and whether there was flooding."
The Herald was with Mrs Kuik when her husband phoned for the first time since he disappeared. She was only able to hear him ask, "Can you hear me?"
"It was nice to hear his voice," she said with a smile.
Mr Kuik finally came out of the bush last night around 7.30pm. He was taken to hospital for a routine medical check and the family hope to have him home by this evening.
Mrs Kuik thanked the search and rescue team, volunteers and the local community for their efforts to find and bring her husband home.
"I am very happy that everything is fine and he is coming home."
- Additional reporting: The Daily Post, Rotorua