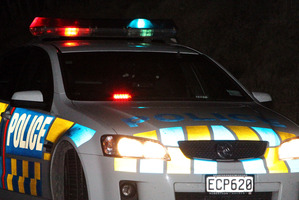 Nine people were injured when a car apparently made a main highway U-turn in front of a rental van near Reporoa, south of Rotorua.
Police are still looking for the car's driver, who left the scene before they arrived.
They said the crash this afternoon was caused by a combination of alcohol and speed.
Emergency services from Taupo, Reporoa and Rotorua were called just after 5pm to State Highway 5 in Reporoa to the collision between a car and a van.
When The Daily Post arrived at the scene, a black Nissan Skyline was in the middle of the road with the driver's door caved in.
The steering wheel was sitting almost in the centre of the dashboard and the windscreen was shattered. The bumper had been carried to the side of the road.
A white Toyota rental van with an Auckland number written on the side was sitting on the side of the road, with damage to the front of the vehicle.
Bits of the cars and were strewn all over the road and police officers had to direct traffic around the scene.
Bay of Plenty road policing manager Inspector Kevin Taylor said from what the police knew, the Nissan had made a U-turn in front of the rental van, although this couldn't be confirmed.
Mr Taylor said the driver of the Nissan had left in another car before police arrived at the scene.
"The driver is going to have a very sore hip or leg and he's going to be needing some sort of medical attention at some stage.''
St John Taupo operations team manager Graeme Harvey said they had assessed nine patients who had been in the van.
He said they were assessed for minor to moderate injuries ranging from painful necks to minor abrasions.
Mr Harvey said the nine were taken to Rotorua Hospital.
The accident comes less than a week after a fatal crash in Reporoa. Taupo teenager Annalese Bacon, 17, died after the car she was travelling in rolled in Plateau Rd near Reporoa on Friday.
Police say alcohol, speed and failing to wear seatbelts were factors in that crash.
For more articles from this region, go to Rotorua Daily Post