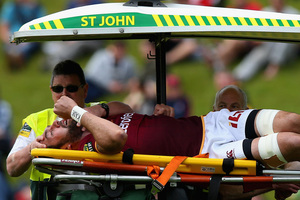 Southland rugby player Hoani MacDonald is showing signs of improvement after suffering a cardiac arrest during a game on Saturday, Rugby Southland chief executive Brian Hopley says.
The 34-year-old collapsed during his team's ITM Cup semifinal against Counties Manukau in Pukekohe, and paramedics used a defibrillator after CPR and a shot of adrenaline failed to bring back his pulse.
He was in an induced coma until Sunday night and has since been moved from intensive care to a coronary care ward.
A hospital spokeswoman said he was in a stable condition with family by his side.
Mr Hopley had heard MacDonald was doing "reasonably well" and had been "up and about".
"From our end, we're obviously happy that he's come through it and is stable.
The main thing is we're here if his family needs anything and we just want to provide that support," he said.
His Southland Stags teammates had had an anxious couple of days.
"I think the fact that he's stable and has been responding has been a bit of a relief for them because obviously they were pretty close to the incident. Unfortunately there was lots of stuff on social media [about his condition] which was not correct, which didn't help."
Pukekohe Volunteer Fire Brigade's senior station officer Graeme Wilson said MacDonald was talking to the team doctor when he had a fit and fell unconscious.
His condition deteriorated rapidly and he went into cardiac arrest just minutes after being taken from the field on a stretcher.
"It was pretty scary and definitely life-threatening for a while," Mr Wilson said.
- APNZ