Driver whose partner and son died was looking forward to new life after engagement.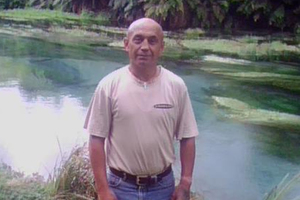 The sole survivor of a fiery crash which killed four people, including his son and partner, was getting over a recent tragedy but excited about starting his new life after getting engaged.
Father-of-seven Roland Whitney was still grieving over the death of his brother Mark Whitney - who died in a motorcycle crash last month - when the Ford Explorer he was driving collided with a van north of Gisborne.
The 59-year-old's partner Helena Moore, 42, who he had recently proposed to, her son Phoenix, thought to be 20, and Mr Whitney's son Te Anau, 14, were killed in Saturday's crash. The family lived in Putaruru but were looking at moving closer to relatives in Gisborne.
A mother-of-four in the oncoming car on State Highway 2, Serena Smith, 33, was also killed.
Initially police said they believed alcohol was a factor in the crash, but Mr Whitney's aunt Kathleen Whitney, who helped raise him and some of his seven siblings when their parents separated, told the Herald he gave up alcohol when his first wife died of cancer about 13 years ago.
"Te Anau was only a year old when his mother died. So Roland's brought him up. After his wife died he gave up drinking and looked after his boy."
She said Mr Whitney was a hard-working family man who had seven children from his first marriage and was dedicated to his teenage son.
Mrs Whitney believed her nephew recently proposed to Ms Moore, who worked as a cleaner for OCS Commercial Cleaners.
"I heard they got engaged not long ago. He was starting to get a good life and then this happens."
Mr Whitney was last night in a stable condition in intensive care at Gisborne Hospital after he was dragged from his car which burst into flames after impact.
It's the second time in a month Mr Whitney has been struck by tragedy after his brother Mark Whitney, 37, died in a motorcycle crash while holidaying in Rarotonga.
Cook Island Police said alcohol was a factor in Mark Whitney's accident.
Putaruru College principal Mike Ronke said Te Anau joined the school in Year 7 and was known by everyone in the close-knit school.
"He was one of our Year 10 boys. He's a pleasant little fellow. He can be a bit of a mischief, but a mischief in a pleasant sense."
Mr Ronke said Ms Moore's daughter was also a student at the school in Year 9.
Yesterday police were urging two men first on the scene to make contact. The men were driving a white ute heading toward Gisborne and appeared to have been hunting.
It was unclear why police originally said alcohol was a factor in the crash but Senior Sergeant Maui Aben said police were still not ruling it out and were investigating the cause.
"We have to turn over every stone and that's one of them. We're not 100 per cent sure alcohol was involved so we have to cross that [off] by investigating properly."