Parents of Waitomo crash survivor say their daughter is recovering but they haven't broken sad news to her.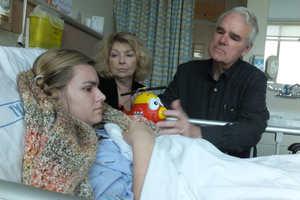 The parents of American Kirsten Steinke, who suffered severe head injuries in a car crash near Waitomo Caves, have not broken the news to her that husband Kallan Stithem was killed in the accident.
Jim Steinke said his only child was improving faster than predicted from the September 20 crash at the intersection of State Highway 3 and Waitomo Caves Rd.
But the 28-year-old, who is in Waikato Hospital, was not yet aware of everything that had happened.
"She's aware she's been in an accident. We're just not sure of any of those things just yet."
Ms Steinke and Mr Stithem, 31, had been married less than a week and were on their honeymoon when they were hit by a cement truck at the intersection.
The pair had been emailing home every day about their "fabulous" trip.
"The heart-rending part is Kallan was happy and joyous, up to that moment," Mr Steinke said.
Police said Mr Stithem failed to give way at the intersection, where a Canadian tourist was also killed this year.
Waikato Hospital trauma specialist Dr Grant Christey said Ms Steinke was in a "pretty terrible state" when she arrived at the emergency department.
"It was a massive high-speed crash, she had multiple injuries. It was a very distressing situation for all. However ... all of the services that needed to be involved in her care were there and got to her straight away to try to get the best outcome."
Ms Steinke spent two weeks in a coma in intensive care before being moved to the hospital's high dependency unit and later a ward.
Mr Steinke said the tragedy had been hard on him and wife Gerri.
"We get the phone call no parent ever wants to get, hearing about my son-in-law and my daughter. It's just as awful as can possibly be imagined."
Together with Mr Stithem's parents, Gary and Jean, the couple flew to New Zealand to be at their daughter's bedside.
Two weeks ago, "it was a very dark view", he said, but since then Kirsten's recovery had progressed more quickly than expected and the family were preparing to fly home this week. There, a lengthy rehabilitation would continue.
"Every day her life comes back to her and she's more and more capable of looking at a full life again."