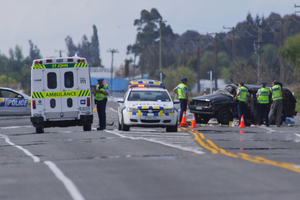 The country's top road cop says the road toll of seven so far this Labour Weekend is disappointing.
New national manager of road policing Superintendent Carey Griffiths said the toll was on par with last year's Labour Weekend toll.
With the official holiday period set to end at 6am tomorrow, seven people have died in four crashes.
"When people choose not to wear seat belts, to drink and drive or exceed the speed limit they need to realise that those choices have permanent consequences. If you see your friends and family not following the basic rules, challenge them on it. You may save a life," Mr Griffiths said.
"We are disappointed that we are now par with the number of fatalities over Labour Weekend in 2011. The challenge to all road users is to ensure there are no more."
Four people were killed on one fiery head-on smash near Gisborne on Saturday night.
Mother of four Serena Smith, 33, was killed when the van she was driving and a Ford Explorer carrying four people crashed on State Highway 2 south of Te Karaka township about 9.15pm. She was a sober driver who had dropped her partner off at a concert and was on her way home to Whatatutu.
The driver of the Ford Explorer, which allegedly crossed the centre line, was injured and his three passengers died when the vehicle burst into flames following the crash.
The occupants of the Ford Explorer were said to be a family from Putaruru on their way to visit relatives in Gisborne. Police are investigating whether alcohol was a factor in the crash.
A 27-year-old man will appear in New Plymouth District Court on Thursday charged with the manslaughter of Anne McCullough who was hit by a car while jogging along Frankley Rd, New Plymouth, on Saturday afternoon.
Others killed on the roads this weekend include a pregnant 24-year-old woman killed on Saturday near Washdyke, north of Timaru; and Annalese Bacon, 17, killed at Reporoa on Friday night.
An eighth person, a 62-year-old man killed on Tucker Beach Rd near Queenstown on Saturday, was excluded from the toll because the crash was caused by a medical episode.
Thousands of people are expected to travel home today and tomorrow as the long weekend comes to a close.
Mr Griffiths asked slower drivers to be mindful of other road users by keeping an eye on their mirrors and pulling over where safe to allow other traffic to pass, helping reduce potential frustration that could lead to unsafe overtaking and other risky behaviour.
"Holiday driving requires extra care and patience, and with so many more drivers on the roads, following distances become particularly important," he said.
- APNZ