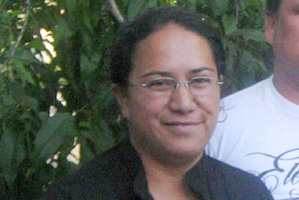 *Jogger's body found abandoned in car
*Sober driver among 4 dead in head-on crash

Two mothers are among the victims of a horrific holiday weekend on the roads - one dying in a fiery crash caused by a suspected drink-driver and the other hit while out running and left dumped by the driver in his car.
Jogger Anne Elizabeth McCullough, 45, a mother of two, was killed when a car hit her in rural Taranaki on Saturday. The driver put her body in the back seat, then abandoned her and the car 10km away.
A 27-year-old man will appear in court today charged with manslaughter, and police are appealing for sightings of a distinctive, purple 1987 Holden Commodore Saloon with mag wheels.
Detective Senior Sergeant Grant Coward said it was an "absolute tragedy" and investigators "desperately" needed the public's help in tracking the Holden's movements.
Mrs McCullough was hit on upper Frankley Rd between 1pm and 2pm and her body was found in the purple Holden at the Meeting of the Waters scenic reserve on State Highway 3 about 2.30pm.
Last night, the road toll stood at eight, the same as for the entire Labour weekend last year. The official period ends at 8am tomorrow.
The national manager of road policing, Superintendent Carey Griffiths, said that despite constant reminders about the dangers of speed, alcohol and failure to wear seatbelts, these remained consistent factors in serious and fatal crashes. In the holiday weekend's worst crash, Serena Smith, 33, a mother of four acting as a sober driver, had just dropped her partner at a concert on Saturday night when her van and a Ford Explorer collided head on.
The Ford Explorer burst into flames and the three passengers died. The 59-year-old driver suffered only moderate injuries. Police believed alcohol was a factor in the crash. The four, believed to be members of a Putaruru family, were en route to Gisborne to visit relatives.
Passersby tried desperately to free the passengers, but were not able to release their seat belts.
Jessica McMillan and her husband were first on the scene.
"We started to hear a driver groaning and we thought, 'Let's get in there', and that's when the sparks started to go in the dashboard," she told 3 News.
Yesterday, friends and family of Serena Smith remembered her as a gentle, caring woman who was always smiling.
She had been on her way home to the small community of Whatatutu when the accident happened on State Highway 2, about 9.15pm, south of Te Karaka township.
Her uncle, Jack Tomoana, said she left behind a son aged 10, three daughters aged 8, 5, and 3 and her partner Trevor.
She had previously been in the Navy and recently started training to be a teacher, he said.
When Ms Smith's family learned of her death, there was a desperate search to find her partner at the concert venue. Everyone was still in shock and were gathering from around New Zealand and Australia, Mr Tomoana said.
"The two older ones [children] know the circumstances and they shed a few tears last night," he said.
One of Ms Smith's friends, Vanessa Falanitama, described her as an amazing person who would give anything to anybody. "She's going to be really missed, especially by all of us [in Whatatutu]. Everyone's related."
The driver of the Ford Explorer was taken to Gisborne Hospital and put in an induced coma. His condition was described as stable. Senior Sergeant Moera Brown, of Gisborne, said the victims had a large extended family in various parts of the North Island who were in a "state of shock".
He believed alcohol played a significant role in the tragedy.
Automobile Association spokesman Dylan Thomsen called the holiday toll horrific. "Indications seem to be at least one or two of them people weren't wearing seatbelts. That's just an unbelievable tragedy."
The toll also includes a 62-year-old man killed on Tucker Beach Rd, near Queenstown, on Saturday; a pregnant 24-year-old woman killed that day in a smash near Washdyke, north of Timaru; and Annalese Bacon, 17, killed at Reporoa on Friday night.