Greens surprised party doesn't have a position on such an important marine issue.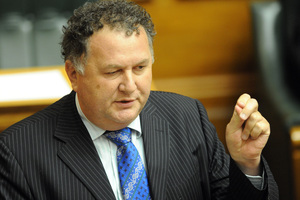 Labour says it has not taken a position on whether to back the United States proposal for a large reserve in the Antarctic's Ross Sea or the Government's proposal for a smaller reserve that are about to be debated in Hobart.
Conservation spokeswoman Ruth Dyson confirmed yesterday that the party had not taken a formal position, after colleague Shane Jones appeared on TVNZ's Q&A supporting the Government's reserve.
"Our consistent policy has been to make sure we always use the best science," Ruth Dyson said, as it had done to support the net bans to protect Maui dolphins.
Ruth Dyson said that while Mr Jones was not the party spokesman on the Ross Sea issue, "he also didn't say anything that any of us would have gone 'holy moly - he said what?"'
The international commission of 25 countries established to conserve Antarctic marine life will be meeting in Hobart, Australia, over the next fortnight to discuss the proposals for a reserve in the Ross Sea.
Mr Jones, a former Maori Fisheries Commission chairman, said New Zealand has the best scientific-based approach to fishing in the Ross Sea.
The effects of the larger marine resource would be far greater than the four New Zealand fishing boats that fished the waters and the $20 million in catch.
There were probably about 40 people in each vessel and each of those would generate perhaps another four full-time equivalent employees to the ones on the boats.
He also said that even if there were an agreement to stop fishing the Ross Sea, "Don't think for a moment that's going to stop the pirates of the world going down there and fishing".
It was happening right now in other parts of Antarctica.
The question was whether to use New Zealand's science-based approach and continue to fish or completely withdraw with the "naive belief" that pirates wouldn't fish there.
Green Party oceans spokesman Gareth Hughes said he was surprised that Labour didn't have a position on such an important issue.
He was also disappointed in the Government's position and said that if nothing came out of the commission in Hobart (Commission for the Conservation of Antarctic Marine Living Resources) it might be time to get ministers involved, instead of just officials.
He understood that Foreign Minister Murray McCully had supported the United States which was to have been a joint proposal with New Zealand but he was outvoted in cabinet.
"I think he is embarrassed and it has bruised him. This would have been a diplomatic win for McCully if a joint US-NZ proposal had have passed [the commission]."
Disclosure
The writer's brother, Peter Young, made the documentary The Last Ocean , supporting a large reserve in the Ross Sea.