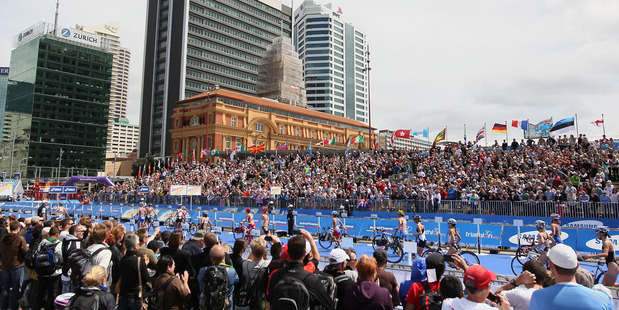 Auckland packed for women's triathlon and it's the men's today
Thousands turned out yesterday to cheer on triathletes at New Zealand's biggest sporting event since the Rugby World Cup last year.
At Auckland's Queens Wharf, Dawn Wyllie was on a tennis umpire's chair with her megaphone, welcoming visitors to the Cloud. Wyllie, from Coromandel, arrived with around 350 volunteers at 4am. She was handed a megaphone, reminding her of a special occasion at Eden Park last year.
"At the final of the Rugby World Cup they gave me a megaphone, so it's funny it's happened again," she laughed. "It must be something to do with my personality."
On Queen St, thousands watched the women run past. Chris East from Christchurch was surprised how big the event was. "It's quite well designed. The way it's set up, people can move around easily."
Todd Cockshutt came from Port Macquarie in Australia with his wife, Melinda, who won her age-group event on Friday.
He was happy the Auckland weather put on a good show. The Cockshutts squeezed in a visit to Kelly Tarlton's between triathlon events.
At the nearby Sport and Lifestyle Expo, nutrition, cycling and sports gear retailers promoted their goods. So too did Leanne Amphlett from Hawke's Bay winery Sileni, which produced special wines featuring top Kiwi contenders Andrea Hewitt and Kris Gemmell.
The event's chief executive, Dave Beech, said yesterday's events went "unbelievably" well. He was excited about today's men's race and said the "3:5:3" curtainraiser this morning would showcase "all different shapes and sizes" of triathlete.
Wyllie's umpire chair was one of four in the city, and an important part of a big logistical exercise, Beech said.
"It goes right from the simple things like that ... to electronic signage out on the wharf, crowd counters, volunteers." He said the turnout was heartening, with 3000 people filling a grandstand on the wharf and crowds five deep on the east side of Queens Wharf.
Most cafes in the CBD were packed.
Nineteen stretches of inner-city streets were closed but Auckland Transport said there were no traffic dramas. Official estimates predicted a $7m economic boost to the city.
The Barfoot & Thompson World Triathlon Grand Final events continue today and tomorrow.
An information centre at the Cloud opens to the public at 9am today.