He hasn't heard what's happening to the girl who's locked up in China.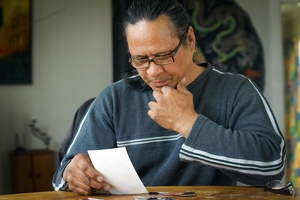 Gary Hepi. Photo / Lani Hepi
The father of a Kiwi woman facing life in a Chinese prison says he has struggled for three years to get information about the case.
The Herald on Sunday can reveal 26-year-old Teresa Hepi, of Wellington, was given a death sentence for drug smuggling in China in 2009.
The sentence was later commuted to life imprisonment and a childhood friend, who wants to remain anonymous, said she could be free in 12 years.
The friend claimed Teresa had been framed by a colleague while visiting shoe warehouses in Asia.
This week, as her name was confirmed for the first time, her father Gary Hepi told the Herald on Sunday he was worried sick about his daughter because no-one would tell him about the case. He said the last time he spoke to Teresa was about a fortnight before she was arrested in Shenzhen.
"She was texting me and calling me from Malaysia every day right up until she got her visa to China, then it just stopped," Hepi, of Edgecomb, said.
Hepi, 49, said he felt uncomfortable knowing she was in a foreign country with a group of girls he hadn't met before.
He then received a call from her mother who said their daughter had been arrested for having drugs in her luggage.
"I just cried for a couple of days and had to take some time off work."
Since then, he claimed he had been "locked out" from getting information about the case or sending letters directly to her in prison.
"Everyone was just telling me she is all right and don't do anything. I knew nothing about the death row."
He described Teresa as a "gullible" woman who would do almost anything for a friend.
"She is an easy follower and if a friend has asked her to do something nicely she would do it. If she was carrying heavy drugs she would not have known what they were. She wouldn't have even looked inside."
Teresa was engaged to her boyfriend and the couple were planning to be married in the Pacific Islands late in 2009.
"I'd love to get a letter to her, I want her to know that I care," Hepi said.
Ministry of Foreign Affairs spokesman Adham Crichton said people who were arrested overseas nominated a specific person who dealt with the Government. Information about a case was usually only given to that specific person.
"We are keeping the nominated point of contact informed about the situation," Crichton said.
The Herald on Sunday understands Teresa's mother is the point of contact. She and Gary Hepi are not together and she did not return calls last night.