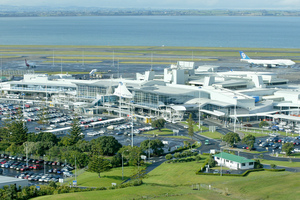 Passenger 'crazy' to carry it
A bomb scare closed part of Auckland Airport after a passenger arrived with what is believed to be a World War II artillery shell - suspected to still be live.
The man was carrying the shell in his hand luggage, a Customs spokeswoman said, which he had collected as a souvenir on a diving trip. He declared the shell to Customs.
Police communications shift inspector Earl McIntosh described carrying the corroded shell on an international flight from the Islands as crazy.
Customs had seized a "very, very old piece of ordnance", he said, and had called police. "It was taken away for disposal by a military unit."
A St John's spokeswoman said the ambulance service was put on alert.
Part of the secure Customs sector was cordoned off after the man arrived shortly after midday because of the "suspicious article", airport spokesman Richard Llewellyn said.
Llewellyn said the security scare had not affected any other flights. "It has slowed the processing of arrivals but it hasn't closed [arrivals]. One of the lines has been cordoned off and the number of processing staff has been reduced," he said.
"We do ask people to be patient and I'm sure police and Customs will go through their processes as quickly as possible." Police said no decision had been made by aviation security whether to lay charges against the passenger.
Two years ago, a traveller flew in from Tahiti with a loaded handgun in his luggage. Baptiste Julien Jeune, 69, got the Bauer .25-calibre gun through Customs and it was only found as he passed through MAF checks before leaving the airport.
- APNZ