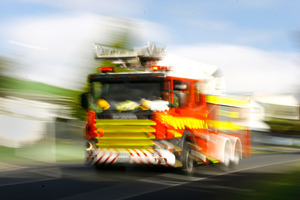 Fire crews battled a suspicious fire at a scrap-yard in Castlecliff for four hours on Thursday night, as smoke billowed across the area and slowed traffic.
Jean and Bob Adams were in bed in their Tui Place house on Thursday night when they heard a loud boom, and their house shook to its foundations.
"We thought it was a bomb going off," Mrs Adams said.
In fact the noise came from a large fire at a car wreckers' storage facility on Rogers St, about 1km away.
Mr and Mrs Adams jumped out of bed and rushed outside to see what was going on.
"Our neighbour was outside as well, and as we talked to her the night sky filled with smoke. The wind was howling, coming straight off the coast," she said.
Soon they could see flames leaping up, and Mrs Adams said her husband thought it was a plane that had crashed.
She said he got out a stepladder and climbed up it to get a better view of the scene.
Mrs Adams said she considered calling emergency services when she saw the flames but decided against it.
"We knew someone much closer than us would have dialled 111. It was such a big thing - the whole of Gonville seemed to be covered in smoke," she said.
Four appliances attended the blaze at a scrap metal yard on Rogers St, just off Heads Rd.
The fire, which engulfed several vehicles and a large shed, was well established by the time crews arrived at 9.20pm, a New Zealand Fire Service spokesman said.
Detective Constable Paul Heathcote said the blaze started in an abandoned house bus that was being stored among other wrecked vehicles, stacks of disused tyres and several discarded gas cylinders, one of which exploded during the fire.
The burning tyres left a thick smoke hanging in the air.
That smoke limited visibility and, as a result, the police were called to manage the traffic on Heads Rd.
Mr Heathcote said young people had been known to frequent the scrap-yard and reports of damage were not uncommon, but there was no indication at this stage that they had been in the area on Thursday night.
However, he appealed to anyone who may have any information or who may have seen any suspicious activity to contact the police.
The scene of the blaze was being scrutinised by a fire risk management officer yesterday morning.
His report would determine a more precise cause, though, the fire was considered suspicious.
Strong winds directed the blaze eastwards and Mr Heathcote said that, in dryer conditions, it would have spread much further.
The scrap-yard is an offshoot of Scrap Metal Wanganui, whose owner was worried about the possibility of copy-cat incidents.
Staff member Simon Garland said the firm, which is based in Ridgway St, had not lost any valuable assets in the fire, but the clean-up would be a major job.
Meanwhile, a property on Fields Track, near State Highway 4, was destroyed by fire early yesterday morning.
The Raetihi Volunteer Fire Brigade responded to that incident around 4am, after the Fire Service received a call from the home's occupant.
No one was injured in either blaze.