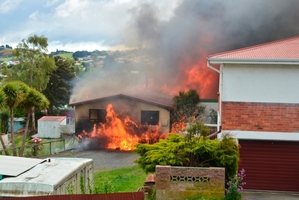 A fire which destroyed a home and severely damaged a neighbouring property in Dunedin yesterday is believed to have been triggered by a lawnmower.
Helene Van Rooy was in her Green Island home on the corner of Loudon and Kirkland St when she heard a loud bang, smelled smoke and saw flames. She immediately rang the Fire Service just after noon.
Within minutes her property was sandwiched between the well-involved Kirkland St property, and her neighbour's Loudon St wooden cottage after strong southerly winds fanned the flames next door.
"I was a bit worried, with all the strong wind ... but we had the hose ready though," she told the Otago Daily Times at the scene yesterday.
Her upset Kirkland St neighbour said the fire may have been caused by a sparking stone from a lawnmower at the property, and the man was searching frantically for a dog and two cats who had not been located.
People from the destroyed property, including one wrapped in a towel, were visibly upset and declined to comment when approached yesterday.
Mrs Van Rooy said it was fortunate her elderly female neighbour was not at her Loudon St property at the time of the incident, and her Central Otago-based family were travelling to Dunedin for support. Firefighters and four fire appliances from Dunedin, St Kilda, Lookout Point and Roslyn battled the blaze, which by 1pm had left the Kirkland St home partially collapsing on itself.
One person was in the home at the time of the incident, but did not suffer any injuries.
Southern Region fire safety officer Barry Gibson said it appeared the fire was caused when a person who had just refuelled a lawnmower, started it and it ignited some fuel which quickly spread to the basement of the house.
The fire then spread to some vented lpg cylinders which caught fire "and made it worse".
"A howling southerly, and the combination of the extra fuel loading from the lpg, meant the fire has blown across and ignited the home next door."
The Kirkland St home was completely destroyed, while the Loudon St home was severely damaged during the incident, he said.