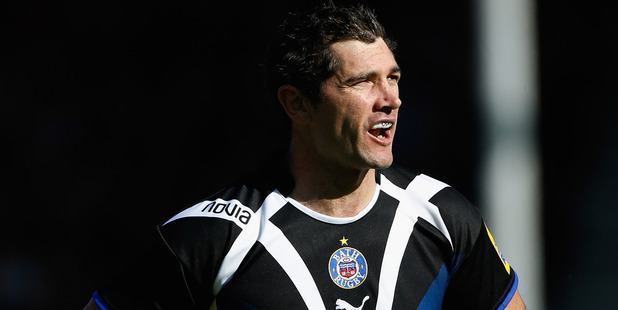 One year since Stephen Donald kicked the All Blacks to World Cup glory, UK correspondent Jared Savage catches up with him at his new rugby home in England.
Somewhere along the line Stephen Donald's Rugby World Cup dream slipped into a nightmare.
The start of his story is now legendary. Unwanted by the All Blacks for the tournament, Donald signed for English club Bath, but was called up by Graham Henry from the banks of the Waikato River as the injury toll mounted. The fourth-string first five stepped off the bench in the final against France to slot the winning penalty. Final score 8-7 and Donald went from zero to hero.
"You want those moments. Everyone talks about dreaming of winning by kicking an important goal. I guess I got the chance that not many people get to have a crack at," Donald told the Weekend Herald before Bath's next match, against French club Agen.
"In my head, it was just another kick with the same process to go through.
Saying that, I was surprised at how calm I felt during the entire game."
Cue adulation from a sometimes unadoring public for the man nicknamed Beaver.
He was to have flown to Bath on the night after the final, after the Queen St parade where thousands lined up to honour the team, holding up signs like "Donald for PM".
A few days later, he returned to his hometown, Waiuku - renamed Beaverville for a night of celebrations.
"That was a couple of weeks in my life that will be tough to beat," he says. "The parades were amazing. The country was on a buzz, I'd never seen anything like it. We had a pretty good view on the back of those trucks and it was mindblowing.
"From where I'd come from and what I planned on doing, to getting called up in the All Blacks. It was pretty bizarre."
For Donald, the dream has faded. Next week marks the first anniversary of Richie McCaw lifting the William Webb Ellis Cup and while the All Blacks have marched on relentlessly to victory after victory, Donald's arrival as the marquee signing at Bath has been far from smooth sailing.
The once-powerful club in the southwest of England has struggled in recent times, and the 28-year-old first five-eighths (as they call them here) was supposed to lift it out of doldrums.
After a star turn in his first game, against Montpellier, Donald struggled to find his feet. Then a serious knee injury curtailed his season for three months.
He was dropped from the top side for a match, and team managers said publicly they'd had "frank" discussions about his form - but denied rumours he would return home to New Zealand.
Bath failed to finish in the top six of the English premiership and missed out on the current Heineken Cup championship in Europe.
Now at the start of a new season with a new coach at the helm, Donald brushes off the criticism and is keen to prove his worth to the rugby-mad region. "I try to earn the respect of my teammates," he says. "I've never really worried about what the so-called experts have to say.
"It has been a challenge ... it was a bit of shambles at one stage. I played a couple of weeks ago and I heard that was my fourth full game in the premiership.
"The injuries have been something I'm not used to. In New Zealand I was pretty much unscathed, and then to come over here ... I've been injured a lot more than I've played."
Playing rugby in a bleak English winter is different, too. The grounds can be heavy and tactically the game is territory-orientated.
"I've had to get my head around that, sharpen up some of my skills in those sorts of areas."
The season started with a 10-16 loss to Gloucester, where his good mate Jimmy Cowan now plays, and a 40-17 win over the Bucharest Wolves.
Off the field, Donald has taken time to settle in his new home, but he is now enjoying the lifestyle.
It took a few months to set up "things you take for granted", like telephones, TV and bank accounts, a common problem for those new to Britain. Red tape has also made it difficult for his girlfriend, a nurse back in New Zealand, to find a job.
But the Roman architecture makes Bath a "spectacular city", says Donald, and the southwest of England is the only region where rugby can claim to be the number one sport.
And for the first time, Donald has been able to enjoy the great Kiwi tradition of an OE and has visited Turkey, Portugal and Croatia - where Anthony Borich played tour guide.
"In our breaks we've been able to cruise to Europe, so that's great, and opened up my eyes a little bit.
He had been to Europe with the All Blacks, "but it's completely different with a backpack on".
The Waikato and Chiefs stalwart is looking forward to catching up with a few mates when the All Blacks play Wales in Cardiff next month.
The past year since the World Cup victory has allowed the magnitude of the achievement to sink in.
He left New Zealand a winner after previous performances in the All Black jersey for which he was maligned, such as the 2010 loss to Australia in Hong Kong, for which many blamed him.
"It is dream stuff and it certainly took a long time to dawn on me that (the RWC final) was not just another game of footy. It was certainly more than that. It was a great time."
The disappointment of missing out on selection last year, when Colin Slade and Aaron Cruden were preferred as backup to Dan Carter, had started to fade by the time the tournament kicked off.
"I got to soak it up as a spectator and went to a couple of games in Hamilton, just soaking up the atmosphere and having a few beers."
Injuries to Carter, then Slade, led to the famous phone calls from Graham Henry which Donald missed because he was out whitebaiting on the Waikato River.
It took messages from Chiefs teammate Mils Muliaina, telling him it was "pretty important" for him to pick up the phone.
He joined the camp before the semifinal against Australia but was left on the bench until Cruden went down in the first half of the final.
Donald still hasn't watched a replay, saying the DVD he ordered from Amazon didn't show up. But he'll never forget the scenes in the changing room after the final whistle blew.
"Everyone thinks we were probably celebrating and running around in the sheds. But we'd already jumped around like idiots on the field, so when we came into the shed it was almost like you'd come down emotionally.
"For a good hour afterwards, people were just sitting around exhausted. Money can't buy those memories. To do it with that group, which I'd been in and out of, was pretty special. There are some all-time greats in that team, like Richie and Thornie (Brad Thorn).
"It was amazing to be a part of it with one of my best mates, (Richard) Kahui. It was a dream result."

Stephen Donald
Age 28
Nicknamed Beaver
Played 23 tests for All Blacks, 85 Super games for the Chiefs, 55 games for Waikato.
Now playing for Bath in the United Kingdom