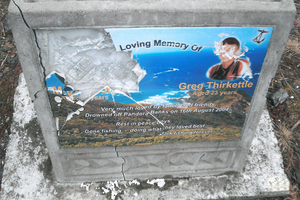 Vandals have inflicted more pain on the families of two fishermen who lost their lives when the commercial fishing boat Iron Maiden disappeared in horrendous conditions near Cape Maria van Diemen in 2004.
Neshia Garrett lost her son, 26-year-old Mark Scott, who was never found, and nephew, 23-year-old Greg Thirkettle, whose body was recovered.
The memorial to the two men was placed high on a hill north of Waitaki seven years ago, and had given the families somewhere to go to remember their loved ones, but now even that has been taken from them.
"This used to be a beautiful picture of my son and nephew," Mrs Garrett said.
"It has been sitting in a perfect place, overlooking Pandora, for seven years. It is a place we went to frequently to remember them."
That changed last month when someone vandalised the memorial.
"We don't know why they did this but we would love to know, and to know who was responsible," she said.
"We are devastated that someone could do this."
An effort had also been made to propel the memorial down a bank. The Department of Conservation had returned it to its proper position, but it would take the families a long time to save the money for a new one.
"And it sure as hell won't be going back up there," Mrs Garrett said.