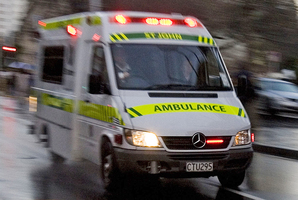 A man is in hospital with serious injuries after a "violent explosion" ripped through a family home in Papamoa last night.
The explosion was so intense, it blew out windows in the house, demolished the kitchen oven and caused serious damage to the inside of the house.
The 39-year-old suffered spinal injuries, burns to his face, neck and head, and had foreign fragments embedded in his body, said Mt Maunganui St John operations team manager Gary Bishell.
Emergency services were called to Range Rd house just after 8pm last night.
Mount Maunganui Fire Brigade senior station officer Roger Pickett said they believed the explosion was caused by an over-heated chip heater.
It was quite an unusual incident, he said.
"When water changes state from a liquid to a gas it expands 1700 times," Mr Pickett said.
"It's a condition called BLEVE: boiling liquid expanding vapour explosion."
When the chip heater was being used last night, it began to make a strange sound so the owner went to investigate, Mr Pickett said.
"It would have made a high pitch whistle sound with the steam building up so he went to investigate it and now he's in hospital.
"He suffered quite severe injuries," Mr Pickett said.
The explosion was "violent" and destroyed the kitchen.
"There was a stove oven next door and that had been demolished."
Mr Bishell said the kitchen was "unrecognisable" following the explosion.
Mr Pickett said the man was very lucky to have survived.
"The back of the chip heater is 15ml cast iron and the explosion blew that up and there were big clumps of it that had gone from the kitchen into the dining room."
"If someone had been in the path of that, it would have killed them."
The man's wife was upstairs and two children were in the other room when the explosion happened.
They were not injured.
For more articles from this region, go to Bay of Plenty Times