Tenants quite wrong to think they should have the same house for life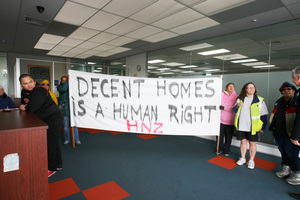 It is hardly surprising that many state-house tenants in Glen Innes are angry about being asked to leave homes they have inhabited for years.
Disruption is always hard to take, especially if, as is the case with some of the residents, they have been settled for up to half a century. Mana Movement co-vice president John Minto wrote in the Herald this week that "generations of kids have now grown up in these well-treed properties with robust houses on large sections". It must have seemed to these families that the temporary arrangement proviso normally associated with state-house tenancy did not somehow apply to them. Thus, the shock associated with their suburb's redevelopment has been all the greater.
The Tamaki Transformation Programme involves Housing NZ removing or renovating 156 houses to make way for 78 new or renovated state units, 39 homes for community providers and about 140 privately owned homes.
The aim is to revitalise the suburb while at the same time selling high-value state houses to private developers and using the money to build new ones elsewhere. There is nothing unusual in the latter. The state, as landlord, is fully entitled to put its houses to the use it sees fit. The only caveats should be that the tenants are given sufficient notice of its intention and offered another state house.
In Glen Innes, that has been done. Some tenants have reacted appropriately. The first houses to be moved were those occupied by tenants who asked to shift early. The problem lies with elderly residents who have dug their toes in because of their mistaken belief that they had a house for life. One provided the telling comment that she wanted to stay in "my house". That is never the case for state-house tenants, no matter how long their family has lived there.
Mr Minto describes the redevelopment as "social and ethnic cleansing on a grand scale". It is, of course, nothing of the sort. Equally, Sue Henry, of the Tamaki Housing Group, drifted into the realms of fantasy when she described a part of the redevelopment that will see 27 of the Glen Innes houses being used for homeless families in Kaitaia as "morally repugnant". There is nothing offensive about families living in cowsheds or caravans being provided with roofs over their heads when the former inhabitants have been provided with appropriate alternatives.
What is inappropriate is the mindset of many of the Glen Innes tenants and the manner in which their obduracy is being encouraged by the likes of Mr Minto. This is all the more untenable because of the message delivered to all new state-house tenants in July last year. They were put on fixed-term rental contracts to signal they should plan to leave as soon as possible, rather than regard a state house as a permanent proposition. This was a welcome development. This aspect of state-house tenancy has not been underlined sufficiently, and in too many cases couples have been left occupying the same houses even after their children have left. These properties should be housing families with children.
The Government should constantly review its housing stock. Occasionally, that will mean selling well-located houses to private developers. This is all about maximising the value of that stock to benefit more of those requiring a state house, not, as Mr Minto would have it, creating "another McMansion suburb by the sea". Nor is it about families on low incomes not deserving homes with a sea view. Rather, it is about helping those on waiting lists by getting the fullest possible use out of the state-house portfolio.