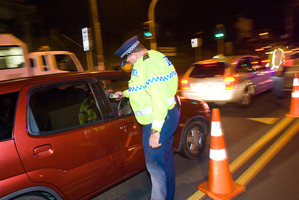 The country's top road policing officer says most drugged drivers are not being charged by police for driving under the influence of illegal substances because they're also being caught drink driving.
"The vast majority of impaired drivers are impaired by alcohol and at this stage we do not have accurate information as to the extent of drug driving in New Zealand," national road policing manager Superintendent Carey Griffiths said.
Since the introduction of anti-drugged-driving legislation in November 2009, 583 people have been charged with the offence nationally.
The Western Bay of Plenty has the highest rate of drugged drivers, with police catching 80 drug-impaired motorists in the last three years.
Mr Griffiths said the current road policing drug testing regime was "very much a work in progress".
"The New Zealand police does not have a quick and accurate test for drugs that can be conducted at the roadside as there is with alcohol.
"However, the intention of the [drug driving ] legislation is to remove impaired drivers from the roads, and therefore, if a driver is found to be under the influence of alcohol, police do not usually take this further and test for drugs also."
AA spokesman Dylan Thomsen said drugged-driving was the "elephant in the room" when it came to road safety.
"This is under-recognised as an issue on the roads.
"We have a huge focus on drink driving - and rightly so - but the evidence indicates that we have an equally large problem with people driving under the influence of drugs and we're not doing enough right now to target those people and keep them off the roads."
Currently police can only drug-test drivers if they believe they are under the influence.
The impairment test entails the driver being taken back to the closest police station where they undertake an eye assessment, followed by a walk and turn, and one-leg stand test. If a driver fails the test they must undergo a blood test.
Mr Thomsen said more people were not being picked up for drugged-driving because they had to be "incredibly out of it" for an officer to suspect they were under the influence, and specially trained officers had to be present to carry out the test.
The AA wanted to see more random drug testing with saliva testing machines - currently used in every state in Australia.
However, the Government is waiting for saliva testing technology to improve before introducing it.
A government review in May concluded the testing devices were not reliable or fast enough to be effective.
Saliva screening takes at least five minutes, is unlikely to detect half of cannabis users, and results are not reliable enough for criminal prosecution, the review found.
A recent Ministry of Transport study found more than half of the drivers taken to hospital after causing a crash had drugs in their system.
Prescription and illicit drugs were detected in 258 drivers, from 453 samples taken.
Ninety people sent to hospital had both cannabis and alcohol in their system.
Wairarapa police have not charged anyone with drugged driving since the new legislation came into force.
"It's fair to say that some people have been driving under drugs, but they've also been driving intoxicated which is our first system that we deal with," Masterton road safety Sergeant Chris Megaw said.
Mr Megaw admitted the drugged driving impairment tests were uncommon. But he said it would be naive to assume that no one drove while under the influence of solely drugs. "Unfortunately we haven't apprehended them."
"We're certainly picking up a substantial number of drink-drivers - there are people who probably are getting through who are [drug] impaired - but luckily for them they are driving well enough that they're not coming to our attention.
"They're not weaving or they're not hitting power poles or crashing into other cars, and so they are getting away with it."
.
* Nationally, 721 people have been charged with driving under the influence of drugs since November 2009 - 583 under the new legislation and 138 under the old.