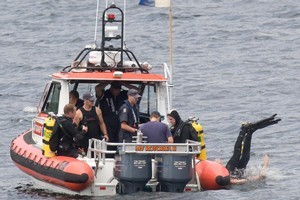 The family of a Rotorua teenager killed in a jetski accident will be involved in a safety campaign to help prevent similar deaths.
As the number of jetskis has increased in recent years, so have the number of accidents and near misses, many come down to inexperience, says Ross Powell, the Bay of Plenty Regional Council's Rotorua Lakes maritime officer.
Most incidents involved men aged 17 to 30.
"Jetskis are as powerful and as fast as a car but under current laws anyone 16 and over can be in charge of one, no licence required," Mr Powell said.
"They're more affordable now, so we see a lot more of them out on the lakes."
In January last year, Rotorua teenager Bishop Thompson lost his life while jetskiing on Lake Okareka.
The 17-year-old died after being hit by a jetski driven by friends when he fell from another jetski. Two of his school friends were charged with breaching maritime rules. The teen wasn't wearing a life jacket.
The whanau of Bishop Thompson are taking part in the safety campaign, which also has the support of Rotorua-based Olympic kayaker Luuka Jones and Kiwi pro surfer Matt Hewitt.
Mr Powell said there had also been another near miss on Lake Okareka at the same time last year.
"Just as happened in that fatal incident last summer ... two people on jetskis were criss-crossing across each other's wakes, one got air and flew into and over the other, knocking a person off. Luckily, they were wearing life jackets.
"Jetskis are very fast and manoeuvrable and things can easily go wrong if people are fooling around and don't know how to handle them properly.
"They can be a lot of fun and most people are pretty good and use them safely, but every year there are more incidents involving jetskis. With so many people on the lakes every summer, that means people are being put at risk," Mr Powell said.
"We don't want to spoil people's fun but they need to be mindful of others in the water and not put themselves and others at risk."
The region's harbour masters, maritime officers and volunteers will be out in force over the coming months, reminding jetskiers of the rules and how to enjoy their fun safely.
Users will be encouraged to wear life jackets, rather than just stow them on board, which is all the law currently requires them to do. They will also be encouraged to go on a Coastguard skipper's course which will teach them the rules and all they need to know to be safe.
A cartoon character will become the face of the campaign in a series of cartoons highlighting the key messages in posters, flyers and online. Social media will also be used in an effort to reach jetskiers.
Like boaties, jetski users can be fined $200 for breaching maritime rules but Mr Powell said the regional council preferred to educate, rather than regulate.
"We prefer talking to people and making them aware of the rules and risks rather than just handing out tickets," Mr Powell said, "However there are some offences we take a zero tolerance approach to, and one of those is if people don't have an observer on board when towing someone behind a vessel - this rule applies to jetskis as well as boats."
For more articles from this region, go to Rotorua Daily Post