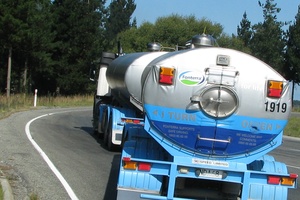 Milk tankers stopped collecting milk in the Far North after a 14-year-old boy was killed when his bicycle collided with a Fonterra tanker.
Police named the dead boy yesterday as Lambros Theodosilou. He died at Moerewa about 1am on Sunday.
Fonterra communications manager Graeme McMillan said milk collections had been stopped on Monday as a sign of respect for the boy's family.
Earlier, Fonterra issued a statement extending its heartfelt sympathies to the family.
The Advocate received a phone call and message from members of the public on Tuesday, saying protest action was taking place on State Highway 1 at Moerewa and tanker drivers had been threatened by people upset over the boy's death.
But Kawakawa police Sergeant Nathan Davis said he and his staff had no information about protest action or threats and had not attended any incidents of that kind at Moerewa.
"My understanding is the family [of the boy] met with the tanker driver and, as far as I'm aware, there is no animosity toward the driver or Fonterra,'' he said.
Mr McMillan said a tangi for the boy began at Otiria Marae on Monday and milk collections for 10 farms had been stopped so tankers would not be driving past the marae.
The stoppage had ended yesterday when alternative routes were found to get tankers to the farms.
Mr McMillan said affected farmers would have disposed of their milk by feeding it to calves, putting it into holding ponds or irrigating land with it.
Fonterra was to discuss payment for the lost milk with the farmers later.
Mr McMillan had not heard about any drivers being threatened, but he suspected emotions were running high after the "terrible tragedy" for the family and the wider Moerewa community.
Police have not yet disclosed why the teenager was out riding a bicycle at 1am or how he came to collide with the tanker.
For more articles from this region, go to Northern Advocate