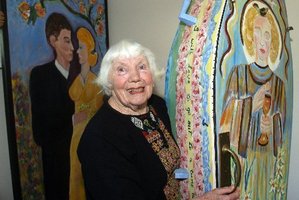 Greytown's Mary Wait likes to be prepared for her adventures - death included.
The 85-year-old has hand-painted her own coffin and it will be featured in the Greytown Arts Festival exhibition The Last Piece this weekend.
Mary bought the coffin from a funeral director and painted it in 1994, although she was not expecting to die any time soon.
"If I'm catching a bus I'm waiting for quarter of an hour before it comes, if I'm going away I've got my bag packed a week ahead just in case I want to put anything else in. I like to be prepared," Mary said.
She did not see why she should leave her choice of coffin to others, and her husband George led the way by building his own coffin before he died 10 years ago.
The couple have always had a healthy attitude towards death. When they bought a plot at Ohaupo together, they took photos of themselves at the site to figure out how they would fit together once buried.
"They made for some interesting photos. I'm on top," said Mary.
Once a maternity nurse, Mary is of the attitude that birth is natural and death should be too.
"I think a funeral is a way of saying thank you, death is a thank you for having lived," Mary said.
Mary and George had six children together and lived in the same house in Ohaupo, near Hamilton, for 54 years. Mary moved to Greytown two years ago and now lives next to her daughter Carolyn.
Mary has always been one for trying new things. "When I was 60 I went roller skating, I was 70 when I started to paint."
And the belly-dancing?
"I was much younger when I did that," said Mary.
She is a prolific painter, and in decorating the coffin was glad to have another piece of wood to paint on.
The coffin features a young woman, a self-portrait if you have got a good imagination, Mary said, holding a cup and communion wafer, a nod to her Catholic heritage. It also features the messages "Please, please release me" and "I will love to go out to a tune of my own."
"It's so exciting to paint, it really is," said Mary. "You don't know what it's going to turn out like."
She points to a self-portrait on her wall, which shows a younger Mary naked on a horse, painted from a photo taken from her time as a nudist.
The coffin is now stashed away in the closet of a spare room and, although she hasn't yet let friends know it's there for worry of scaring them off, her great-grandchildren are intrigued by it and always have a peek when they visit.
When daughter Carolyn heard about the Greytown Arts Festival theme, The Last Piece, she thought of her mum's coffin.
"I said to her, you've got the perfect last piece. You can't be later than that," Carolyn said.
Mary's hand-painted coffin will be on display at the Greytown Arts Festival exhibition, The Last Piece, Greytown Town Centre on Friday, Saturday and Sunday, 9.30am to 5pm.
For more articles from this region, go to Wairarapa Times-Age