Investigation: Bungles, misunderstandings and other lapses happened at least eight times, chief admits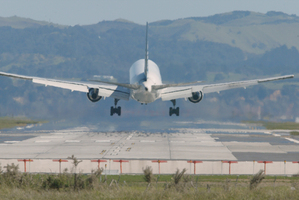 The air force has shipped dangerous goods on civilian flights at least eight times - including one "seriously endangering" the lives of all on an Air New Zealand flight to Canada.
Chief of Air Force Air Vice-Marshal Peter Stockwell last night issued a statement confirming several safety failures affecting civilian aircraft.
He also said the Royal NZ Air Force misled the Transport Accident Investigation Commission (TAIC) when reporting the incident in 2009.
And he said the air force bungled its plan to tell Air NZ about the incident and misunderstood its responsibility to tell the Civil Aviation Authority about the incident.
The admission of failures came as the CAA announced it would investigate the incident in which the air force placed up to 379 people at risk.
The Herald revealed on Tuesday the air force breached Air NZ's rules with an "illegal" shipment of chemical oxygen generators on the airline's 747-400 passenger flight to Vancouver on August 23, 2009.
A similar incident destroyed a passenger flight in the United States, killing 110 people.
The incident was revealed in a report obtained by the Herald that detailed safety problems in the air force. The report, part of an investigation into the Anzac Day 2010 tragedy that left three servicemen dead, found the air force did not have processes in place to carry out safe flying operations.
It also found the air force had adopted only 47 per cent of safety recommendations in the past 10 years - including recommendations that would have grounded the Anzac Day flight and kept the dangerous canisters off the Air NZ flight.
Air Vice-Marshal Stockwell said the air force court of inquiry into the Air NZ incident resulted in 22 safety recommendations of which 19 had been adopted.
He said the air force had known of problems after wrongly shipping a helicopter engine, classified as dangerous goods, on a DHL flight without accurate information.
He said that between 2002 and 2009 the air force had shipped dangerous goods with incorrect documentation on eight occasions of which it was aware.
Air Vice-Marshal Stockwell said the air force had contacted the TAIC by telephone but had misinformed it.
The air force person who contacted TAIC had wrongly told the agency the dangerous canisters had not been shipped. He said another error was made when the air force failed to send TAIC a copy of its investigation report into the issue, which revealed the canisters had been shipped.
"Nor did we raise the issue with Air New Zealand, which appears to have been the result of different staff within the air force thinking that others were doing this."
Air Vice-Marshal Stockwell said the air force also failed to notify the CAA because it thought it only had to if there was "a serious harm event".
Defence minister Jonathan Coleman said he had confidence in the air force and its leadership.