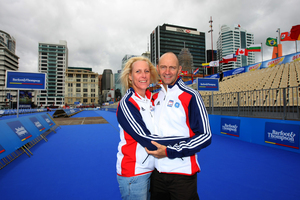 Triathlon couple Anne Woods and Mick Lawrence will not only have to swim, bike and run this weekend at the world triathlon grand finals, they will also have to walk - down the aisle.
The pair, from Cambridge, England, will tie the knot on Waiheke Island today. They will later change out of their dress and suit into singlets, shorts and running shoes to prepare for their Barfoot & Thompson-sponsored age-group sprint event on Monday.
The two Team Great Britain triathletes have had a hectic schedule since they arrived in Auckland on Monday, as they were preparing for yesterday's aquathon race.
Ms Woods was surprised word had got out about their big day.
"I asked if it was possible to get a spare wristband as I didn't want to have it on for the wedding photos. The lady I was talking to got excited and took my email address and went on from there."
Mr Lawrence proposed to Ms Woods last Christmas and they chose to have their big day in Auckland after he qualified in May for the men's 50-54 age-group sprint event.
Ms Woods went on to qualify two months later for the women's 40-44 age-group race.
The couple said they were planning a small wedding, and eight friends and relatives who travelled with them from England will be at the ceremony.
They took up triathlon to keep fit, and do not compete against each other as Ms Woods concedes she does not stand a chance against her fiance.
"He's very competitive ... I'd like to beat him but if I did that, I'll be divorced very quickly."
They will honeymoon in the South Island for two weeks before they fly home.