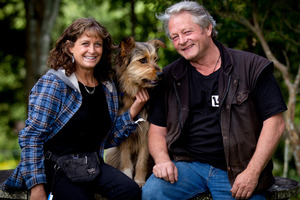 A sick and hungry pup rescued from Hamilton's pound has risen to film star fame - and he's not the only one.
Buzz the beardie cross has become the face for shelter dogs all over the country by starring in the Pedigree Adoption Drive campaign encouraging people to provide new homes for more than 10,000 mutts abandoned each year.
The cinema and television advert, which tells Buzz's sad story of abandonment and neglect, won an award at the Cannes Lions Awards for advertising.
Auckland animal physiologist Mark Vette, who runs animal talent agency Animals on Q, collected Buzz and Senna, a New Zealand black and white heading dog, from Hamilton City Council's animal control centre in February. They will be part of his Star Animal Rescue Society programme, which aims to train up to 30 rescue dogs for film and television this year.
Buzz is estimated to be between 12 and 18 months old. He was underweight and had scars on his neck when he arrived at his new home on Mr Vette's farm at Waimauku.
Within months Buzz had gained weight and settled in.
He was used in his first advert and is learning to kick a ball for further television and film roles. Senna has also been used on a New World television commercial.
Mr Vette said he chose to rescue dogs because he was often their last chance.
It is the fourth year of the Pedigree Adoption Drive campaign, which has raised $220,000 since it began in 2009.