Authority holds no record of incident which it says should have been reported.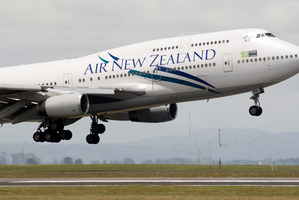 The Air New Zealand plane seriously endangered by bad air force safety practices was a Boeing jetliner which carries up to 379 passengers and crew, it emerged last night.
The air force yesterday finally briefed Air NZ on the aircraft it placed in danger with an illegal shipment of dangerous canisters. It was Air NZ's 747-400 passenger flight on August 23, 2009, from Auckland to Vancouver.
Air NZ chief pilot Dave Morgan said the air force had confirmed it had used the flight to transport passenger service units, which contain chemical oxygen generators.
The airline's rules forbid the units from travelling on passenger flights after 110 people were killed when a passenger jet in similar circumstances crashed in the United States in 1996.
Mr Morgan said "it would appear that at no point was Air New Zealand made aware of the event itself or the outcomes of their inquiry".
Chief of Air Force Peter Stockwell was called to Parliament to explain the incident and other safety failings.
The Accident Analysis Report was obtained by the Herald and detailed extensive safety problems throughout the air force. It was part of the air force investigation into the 2010 Anzac Day crash which killed three servicemen, but was never made public.
Defence Minister Jonathan Coleman yesterday refused to comment and would not give an assurance of confidence over air force safety. He said he had not read the report and was unaware of the Air NZ incident. He was later briefed by Air Vice-Marshal Stockwell.
Dr Coleman has ordered two inquiries into circumstances around the crash since the Herald began investigating.
The air force refused to comment yesterday but said it had told the Transport Accident Investigation Commission of the incident in early September 2009 and again after its own internal investigation was complete.
A spokesman for the TAIC said: "We have started a full search to see if we can find any record of that."
He said the TAIC was normally told of aircraft issues by the Civil Aviation Authority and its list of safety investigations did not include the incident.
A CAA spokesman said it had no record of the incident, which should have been reported. He said failure to do so was a breach of the law, which carried penalties of up to $30,000 for the airline and whoever put forward the dangerous goods.
"If an incident like this did take place and we identified the goods to be dangerous the issue would be taken very seriously and would be subject to a full investigation."
Andrew Carson, the father of Ben, one of three men killed in the Anzac Day crash, said Dr Coleman should be looking for resignations and asking why the report was not made public.
"He should be temporarily closing down the air force and handing it over to the army or navy until it is properly organised."