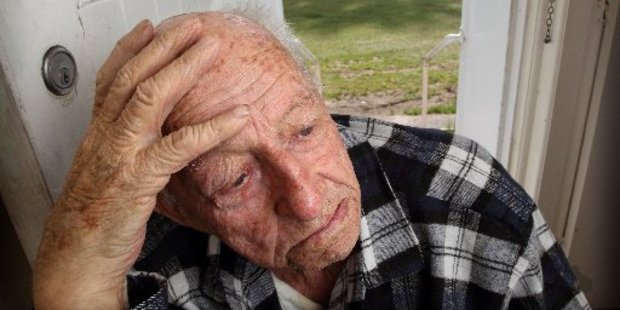 Stories making headlines across New Zealand at noon include a generous old man exploited and robbed by teenagers, an unlikely pair in Romeo and Juliet and teenage drivers are crashing all over the place.
An 82-year-old Rotorua man says he has lost the will to live after he helped out some teenagers who took advantage of his kindness and stole his car, leaving him with no way to get around.
Meet the unlikely couple that is Romeo and Juliet.
Speed and alcohol are believed to have contributed to this car wreck. Meanwhile this 16 year old teen is believed to be paralysed following a horrific drag racing accident in Central Hawke's Bay.
This alleged 16 year old drink driver was stopped with road spikes. And teenager Harry Silcock has pleaded guilty to driving dangerously causing death, failing to stop and check an accident (injury), and driving dangerously causing injury.
Project Jonah's whale rescue trailer has been stolen.
Engineers devised what they thought was a foolproof anchoring system to keep the brass "gnomon" pointer atop the sundial on Napier's Marine Parade safe.
After a brawl involved a group of a dozen men armed with baseball bats, fence palings and shovels, residents of Koutu have been shocked into action.
Meanwhile a crackdown is looming on troublemakers who gather outside Tauranga's downtown art gallery.
Police issued more than 26,000 speed camera tickets in Northland during the past financial year.
A Whangarei business owner says proving legal highs are safe to sell is a good step.
Beehive thief Justin Howes has been spared jail.
One of the worst sources of visual pollution in Tauranga has reached a three-year low.
Clare Smith has a great awareness of how painful it is for parents who can't have children.
Modern-day bureaucracy has gripped the Hawke's Bay A&P Show. On show will be a fusion of food. Meanwhile hundreds of wines have been sniffed, swirled, sampled and spat out.
Drugged-driving is apparently an emerging trend in Hawke's Bay.
A Tauranga man has ingested a significant amount of paraquat, which is a highly toxic weed killer. Meanwhile power was out in rural Tauranga this morning.
Kerry Alexander Murphy and Grant Christopher Wyllie are believed to have died from carbon monoxide poisoning in an abandoned mine where they were cooking up P.
Alasdair McNab, 91, said when TLC installed a "time of use" meter at his home his monthly lines bill jumped to $70, much more than his actual power bill.
The Crown has confiscated three Whanganui River titles that belonged to Wayne Puhi Malcolm.
Gisborne legend Hoot Knowles kept his shades on as he and his partner gave Franklin axemen Kevin Mooney and Curtis Tuapawa a fierce run for their money.
For those who can't help but sing along when they go to see live music, The Yoots are for you.
Experts involved in Wanganui's motor repair industry are scratching their heads.
Meanwhile scrap dealers in Masterton are on high alert.
Some say Selwyn can't afford a half million dollar toilet.
The breeding hopes of hundreds of blackbilled gulls were washed away when waters rose in the Ashburton River on Saturday.
Who owns the mysterious diamond ring found at Netherby School?
Meanwhile the Department of Conservation is warning cunning whitebaiters.
A year after Occupy Dunedin took over the heart of the city, they were back and getting wet.
New Zealand's most inspiring teacher is looking for a job.
Early this morning near the summit of Roy's Peak in Wanaka a farmer decided to have a burn off when suddenly high winds arrived. Meanwhile explosives are being used to clear the Milford Rd in Fiordland.
West Coast scenery will be centre stage this month with the launch of a $100,000 national tourism campaign.
And it's official! Oamaru Airport will be used for passenger flights again.
Top trending topics on Twitter in NZ at noon include #AskZac, #ReeceLiveAndLost, #HighSchoolMadeMeRealize, #afbqa, #followmekiki, #GiveUsIFoundYou, #homeland, #twitknit, #MKR and #YNBall.