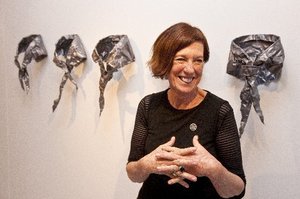 The prestigious pattillo art scholarship has been awarded to Vivien Lindsay from Whanganui UCOL's Quay School of the Arts.
Ms Lindsay's entry was a five-piece sculpture called The five steps and part of a collection titled Come to the Party.
She describes the work as a response to the big questions that preoccupied her during a two-year visit to China.
Ms Lindsay was born and raised in a Taranaki household where her father and grandfather never fully recovered from the grief of being expelled from China in 1949.
She said themes in her art typically referred to belonging, exclusion and attachment.
The annual scholarship was established by Wellington-based business consultancy firm pattillo in 2007 for students of the Quay School for the Arts.
The winning student receives $7500, a commemorative medal sculpted by New Zealand jewellery artist Frances Stachl and a 12-month mentoring programme in association with the Artists Alliance in Auckland.
Ms Lindsay, a third-year Bachelor of Fine Arts student, was named as the scholarship's recipient at a function at the Edith Gallery on the Whanganui UCOL campus last Friday.
Anne Pattillo, the director of pattillo, said there was a strong field of 18 finalists this year.
"There has been a maturing of the scholarship over the six years and a discernible rise in the overall quality of the work," she said.
Ms Pattillo said the idea of the scholarship developed from the way her company worked with clients to solve difficult problems, and that the students' brief - sculpting chaos - reflected the creativity and possibility that lay in chaos.
The judges for this year's scholarship were Justine Olsen, curator of contemporary decorative arts at Te Papa, and Greg Anderson, the Sarjeant Gallery' s curator and public programmes manager.
The award was hosted, for the first time, at the Edith Gallery on the Whanganui UCOL campus, having previously been held at the Sarjeant.
"We are grateful to UCOL for being responsive as the Sarjeant works through its approach to earthquake strengthening and very happy that despite those challenges the gallery continues to support the work of the scholarship," Ms Pattillo said.
For more articles from this region, go to Wanganui Chronicle