Grant Wyllie found abandoned mine shaft on a pig-hunting trip, friend says.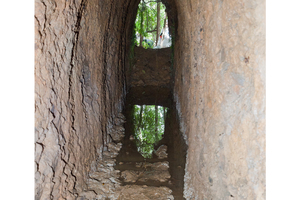 Grant "Grunty" Wyllie was well-known and liked in Whitianga as a good guy whose passion was pig hunting. Or so his friends thought.
The 49-year-old was found dead on Saturday at an unused mineshaft known by locals as the Corra Linn about 60m off the side of the 309 Road on the outskirts of Whitianga.
Alongside him was 40-year-old Kerry Alexander Murphy, originally from Hamilton.
Both are believed to have died after inhaling carbon monoxide fumes from a petrol generator found at the mineshaft they were using as a methamphetamine laboratory.
A female acquaintance of one of the men led police to their bodies on Saturday after they did not return home on Friday.
A post-mortem examination in Auckland yesterday found the two men, both of Whitianga, had inhaled carbon monoxide fumes.
Wyllie's old friend and president of the Whitianga pig-hunting club, John Allen, yesterday told the Herald he and Wyllie found the mineshaft several years ago on one of their many pig-hunting jaunts together.
"We were going down this steep gully and came across it ... There are hundreds of them like it up there," Mr Allen said. "He was a really good guy so I was surprised when I heard about all of this."
A Whenuakite resident said Wyllie was "very well-known" in Whitianga and also described him as a "bloody nice guy" who was "softly spoken".
"When I've been talking to him on the street, everyone he walks past says g'day, g'day, g'day - he's just well-known."
He said Wyllie's house, also on the 309 Road, was often used as a retreat for younger people in Whitianga who had been harassed.
"Him and his girlfriend house a lot of young ones from the town. Give them a roof over their heads and things like that."
Murphy, a father of two and previously married, was known to police but the Herald cannot reveal more because of court suppression orders.
He was in a relationship with a 19-year-old Whitianga woman whom the Herald has decided not to name.
A Whitianga man who knew Murphy said his girlfriend was "completely heartbroken".
He said Murphy had been living in Whitianga for about a year and his background among the town's underbelly was well-known.
"He used to go to the pub, order food and play the pokies a lot.
"He was an all-right kind of guy, seemed quite laid back and friendly but those who knew what was going on knew he wasn't up to any good."
Detective Sergeant Ross Patterson said police were not seeking anyone else in relation to the men's deaths.
He said equipment and chemicals were recovered from the scene and these were confirmed as being consistent with a clandestine drug laboratory.
He said the operation was a "relatively new one".
"The double tragedy shows the inherent risk of operating petrol-powered engines such as generators in confined spaces ... people must exercise the utmost care."
The men's deaths have been referred to the coroner.