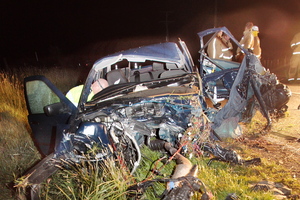 The teenagers involved in a "horrific" car crash at Waipukurau have been flooded with online messages of love and support from friends and family.
All four occupants of a dark blue BMW remain in hospital after a drunken drag-race went wrong about 11pm on Thursday night.
Police are still seeking information about a second car which is believed to have driven away from the crash scene on Racecourse Rd.
The accident occurred when driver Menassah Fraser, 19, lost control at a speed "well in excess" of 100km/h and hit a concrete abutment which sent the car flying into the air, before rolling 60 metres along the road.
Ms Fraser and a female passenger Hope Pere, 18, were in a stable condition at Hawke's Bay Hospital last night, while Noel Eparaima, 16, was critical in intensive care. A 17-year-old male, understood to have the christian name TeRangi, suffered serious brain injuries and was transferred to Wellington Hospital on Friday night for further treatment. He was listed as serious in the intensive care unit.
Noel Eparaima's mother, Tamara Stewart, told The Herald on Sunday she wasn't concerned with details of the crash, but focused on her son's recovery.
"I'm just worried about my son, I don't care what anyone else thinks.
"My son is fighting for his life."
A friend of the family turned to Twitter to send love and warm wishes to the "cheeky" teen.
"Noel Eparaima, stay with us, keep strong, everyone's here for you. It saddens me that you're up on that bed striving through. Your guna make it bro, just open them eyes and be that cheeky fella you always are."
Ms Fraser's twin sister Memphis has remained at the hospital with her sibling throughout the ordeal and posted a moving picture of the two holding hands.
"When all you want to do is cry, when your heart drops and the world doesn't seem so big anymore, when it's harder to hold it in the more information you get when I know there's no me without you.
"At your bedside all the way, sis ain't going nowhere," she wrote yesterday.
A friend who had visited Hope Pere in hospital said her injuries included a fractured spine, a broken collarbone and broken leg.
Hastings police Senior Constable Tim Rowe described the accident as "graphic," and reiterated the extreme, on-going consequences of excess speed and drink-driving.
"It's sad when you come to these things and it's another accident caused by speed and alcohol.
"It's hard to know families are going to be ripped apart, and knowing whether they survive or not you have these people left with crippling disabilities."
-HBT ln
- APNZ