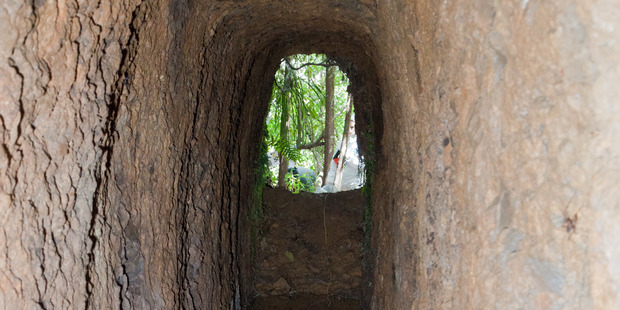 Two men found dead in a clandestine P lab in an abandoned mine shaft on the outskirts of Whitianga on Saturday have been named.
Kerry Alexander Murphy, 40, and Grant Christopher Wyllie, 49 - both from Whitianga - are believed to have died from carbon-monoxide poisoning from a petrol-powered generator.
Police were alerted to the men's deaths by a female acquaintance of one of the men on Saturday. It's not clear if that person is facing charges.
Detective Sergeant Ross Patterson said the post-mortem examination on the two men's bodies found they had died from carbon-monoxide poisoning.
The operation was set up about 60m from the 309 Road which is used by motorists travelling between Whitianga and Coromandel township, but was well hidden in the rough terrain on a steep hill in dense bush.
Detective Patterson said the operation appeared to be "relatively new".
He would not reveal how much the methamphetamine operation could have produced.
"The inhalation of chemicals fumes from the clandestine laboratory has not been discounted at this stage and the cause of death will be determined by the Coroner."
Detective Patterson said police removed the bodies yesterday, along with a "significant amount" of equipment and chemicals from near the scene.
He said these items have been confirmed as being consistent with a clandestine drug laboratory.
"There's been a lot of speculation about what happened however at this time I can confirm there was no explosion in or around the mine. This investigation is being treated as sudden deaths as opposed to a homicide inquiry and we are not looking for anyone else in connection to the deaths".
One person who lives near the place where the men were found said the road had a history of drug-related crime.
More than half the clandestine meth labs police discover are in houses, garages or sheds in residential areas, but others have been found in less obvious places.
In the past three years, police have found labs in caravans, vehicles, shipping containers, motels and baches.
Police attending a fire at a gang house in Wanganui stopped a car speeding from the scene and found a mobile P laboratory in the boot.
Detective Patterson said it was too early to comment on what substances were removed, as they still had to be analysed.
Officers spent 24 hours at the scene and specialists were required to carry out the difficult job of bringing the bodies of the men from the mine and down through the bush.
The bodies were removed at 3pm yesterday and several hours later, eight police officers and forensic experts wearing protective gear appeared from the shaft.
Firefighters were on alert for chemicals or flammable liquids when they were called to the scene about 9.30pm on Saturday.
Several people have been injured or killed when P labs went wrong.
The first fatality was reported in 2007 when a 33-year-old man died from burns after a P lab explosion at Te Hana, north of Wellsford.
Meth can be produced in 6 to 8 hours using apparatus and cookware that can be dismantled rapidly.
Up to $10 million is spent annually on insurance claims relating to cleaning and sometimes replacing houses used to manufacture P.