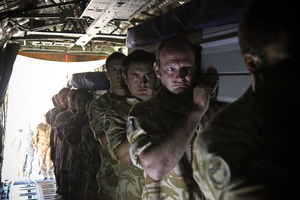 It's the call every military wife dreads.
For Frances Taka, it came at midnight, August 4, from the commanding officer of her husband Dion's battalion. It was the call that signalled that her life and the life of her family would change forever.
Private Dion Taka, a father of three, a talented singer and builder who re-enlisted after a spell away from the army, had been badly wounded in Afghanistan.
Speaking exclusively to Herald on Sunday, Frances recalled receiving the midnight call from Lieutenant Colonel Stefan Michie that Dion had been shot in a Taleban ambush in Afghanistan. "I pretty much knew as soon as I heard from him that something had happened."
Having been told that Dion was in a "serious but stable" condition, Frances then had to break the news to the couple's three children, a 13-year-old daughter, and their two boys aged 10 and 6. "They all cried,"she says.
"It was hard."
Taka's unit had been ambushed by the Taleban while on patrol in Bamiyan province. Dion was the most severely injured of the six New Zealand soldiers hit in the attack. Lance Corporals Pralli Durrer and Rory Malone did not survive.
The firefight is not up for discussion when the Herald on Sunday meets Frances at Burwood Hospital in Christchurch on Thursday, where Dion has received daily treatment since his return to New Zealand.
But media reports from the time told of a fearsome battle and extraordinary heroics.
Lance Corporal Malone dragged his commanding officer, Major Craig Wilson, to safety before he was killed trying to help another comrade.
Frances, who flew to Germany to be by Dion's side in hospital once he was moved from Afghanistan, said it was a "huge shock" seeing the extent of her husband's injuries for the first time.
Enemy bullets had left him with abdominal, leg and pelvic injuries. But she is proud of his steady progress over the past two months.
"I was shocked at his condition to be honest," she said.
Dion was still receiving treatment overseas when Malone and Durrer were farewelled by their comrades at home. Barely two weeks later, three more from his unit, Lance Corporal Jacinda Baker, Corporal Luke Tamatea and Private Richard Harris, were killed when a improvised explosive device tore through their Humvee.
It made for the New Zealand military's bloodiest month in nearly 52 years. But the tragedy would become a catalyst for good. It sparked the establishment of the New Zealand Fallen Heroes' Trust, a charitable, non-political organisation to help the families of armed forces personnel wounded or killed in action.
The trust aims to fill a hole in the protective cloak that the army throws over any of its own who have suffered death or injury in the line of fire.
Dion was back on home soil for the memorial service of Baker, Tamatea and Harris. He was wheeled into the memorial service on a stretcher, with his wife Frances walking by his side.
Since then it has been a slow road to recovery for Dion, 38, who is undergoing rehabilitation at Burwood Hospital in Christchurch.
"Mates helping mates" - that's how Baden Ewart describes the Fallen Heroes Trust. Ewart, a trustee and former Vietnam veteran, said the trust would provide practical and advocacy support for the families of New Zealand Defence Force soldiers killed or wounded in service.
"These soldiers have done their duty for New Zealand serving overseas, so this is an opportunity for us to do our duty for them and their next of kin."
Despite its infancy, the trust has already raised more than $20,000 - a figure Ewart, who is the regimental colonel of the Royal New Zealand Infantry Regiment, wants to see continue to rise. Half of the money has come from small donations, and the trust is encouraging people to get involved.
It is aiming to raise $10 million over the next five years. "I'm really thrilled and somewhat humbled by the number of people who have put their hands in their pockets to help our guys and their families.
New Zealanders are generous people, there's not one person I've approached who has said no."
The Trust has been invited to hold a collection at the football match between the All Whites and Tahiti in Christchurch on Tuesday.
They have offered a number of complimentary tickets to the Defence Force, the Army Band will play the National Anthem and a minute's silence will be observed.
Ewart, who has more than 30 years of army service, said the trust planned to hold various fundraising activities, including adventure challenges, dinners and individual pledges. They hope to hold an event with Prince Charles during his official visit next month.
Ewart is quick to add that the money raised will be used to fund specific projects or activities on a case-by-case basis as opposed to straight monetary handouts.
The trust was loosely based on the phenomenally successful UK charity Help for Heroes, which has raised $250 million since it was formed in October 2007.
The British charity has been supported by the likes of Princes William and Harry and David Beckham, and captured the pro-military sentiment that grew in tandem with the rising UK death toll from Afghanistan and Iraq.
New Zealand's losses have also been severe. There have been 10 fatalities in Afghanistan since Lieutenant Tim O'Donnell was killed in August 2010. Since then soldiers have been involved in skirmishes with increasing frequency.
The NZ Provincial Reconstruction Team has just begun its 21st and final rotation, and is due to pull out for good in April next year.
Another trustee, Te Puni Kokiri boss Leith Comer, says that the New Zealand public is gradually becoming more appreciative of the sacrifices that our military make. While there will always be those who disagree with our presence there, Comer points to the growth in the numbers attending Anzac Day ceremonies in Australasia, the UK, and Gallipoli as evidence that younger generations are interested.
Comer can trace his military family history back to every conflict since the Boer War. His grandfathers fought in World War I, his father and uncles in the 28th Maori Battalion in World War II.
Families of soldiers who are killed or maimed are already entitled to Government grants. There are ACC payments, a range of one-off payments available from Work and Income. The size of the payout depends on the number of children they have and their means.
The family of a recent fatality will receive $1 million from ACC and defence payouts, over the course of the children's lifetime.
Family first priority for soldiers back from the battlefield
After six months in Afghanistan, Craig O'Keefe had one thing on his mind - kissing fiancee Anita Spencer's tummy.
O'Keefe was among those returning soldiers from the 2nd/1st Battalion Royal New Zealand Infantry Regiment, who were returning without five of their mates.
It may appear a strange priority for a soldier returning home, but for soon-to-be father Craig, finding out one week into his deployment his fiancee was expecting made the moment more emotional.
The 26-year old Lance Corporal was reunited with Anita as well as his mum Gail O'Keefe when almost 100 New Zealand Defence Force soldiers arrived at Christchurch Airport on Thursday night.
For Gail, who has had to farewell her son once before on tour, it was a relief to have him home.
Her sentiments were echoed by Anita, who at 30 weeks pregnant, was looking forward to spending quality time with Craig before the birth of their daughter, who they plan to name Ashlynn Rose. "I'm nervous and excited and just happy it's all over and he's back."
Emotional reunions took place throughout the arrivals lounge as dozens of families welcomed their loved ones home.
Rachael Curruthers said her sons Jack, 6, and Jim, 3, had been "counting sleeps" for the past week in anticipation of their father's return.
It was the third international deployment for Sergeant Stephen Carruthers who kept in regular contact with his family through email and Skype.
Craig and Stephen were supportive of the Trust. "It's a great idea. The guys really deserve it," added Craig.
Lieutenant Corporal Stefan Michie, the battalion's commanding officer, said the Fallen Heroes' Trust was an example of the wide public support for the armed services.
"Any support that New Zealand can offer for our soldiers who are prepared to put their lives on the line for our country is in my view a good thing."
He encouraged all armed personnel to embrace the wide public support shown throughout the country.
"It's a really touching thing when someone comes up to you at the airport or the bank when you're in uniform and says a few kind words."
Michie said there was a sense of "relief" at the return of the 100 personnel but said it was just the end of one phase.
The troops were "gutted" at the deaths and injuries to their comrades, but it had not stopped soldiers wanting to serve their country, Michie said, adding they were "focused" on doing their jobs.
Frances says that despite losing five close comrades in a short space of time, Dion's commitment to the military has never wavered. "He was doing his job and he's proud of that job. He would go back again - it's a job he loves.
"I am very proud of him and of his mates and what they have done to help the people of Afghanistan, and I would support him if he ever deploys again in the future. I would also like to add that we are very grateful of the support we have received from the New Zealand public, the army and our local community."
- Herald on Sunday