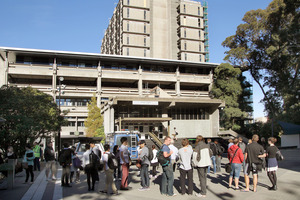 Police have arrested 37 people in Christchurch today during an annual end of year "Tea Party'' drinking event for university students.
Police officers are out in force monitoring the mass booze up and the arrest count looks set to grow.
Senior Sergeant Peter Laloli said two men, in their 20s, were arrested for breaching the liquor ban on Wharenui Rd, Riccarton and Strowan Rd, Merivale, while 33 others were arrested on Euston St, Riccarton Rd, Rattray St, Maidstone Rd, Rountree St, Clyde Rd, Montana Ave, Paeroa St, Riccarton and Deans Ave.
"Most of these students would be given a pre-charge warning and would not have to appear in court,'' he said.
Two others had been arrested for disorderly behaviour on Springs Rd, Prebbleton, about 7km away from Lincoln University, and Tara St, Riccarton.
Canterbury and Lincoln universities are hosting their annual end of year concerts, which comprise of students dressed in costumes, drinking and celebrating the end of lectures for the year.
Senior Sergeant Laloli said police will be monitoring these parties throughout the day and people can expect to be arrested for breaching the liquor ban or disorderly behaviour.
"There will be a highly overt, as well as covert, police presence during the day and additional police patrols in the Riccarton area tonight,'' he said.
A Selwyn police spokesman said the majority of the district's police staff would be monitoring the event.
With student drinking games such as ``eight [drinks] before eight [am]'', police were expecting a number of minor disorder incidents later in the day.
According to Facebook event pages, Canterbury University's Tea Party is set to attract more than 1740 students and Lincoln University's Garden Party is expected to attract over 800 students.